Getting the bus from Tallinn to Riga, and Riga to Vilnius is one of the easiest ways to travel The Baltics.
Travelling the Baltics By Bus
With cheap prices, a direct service, and central bus stations it's easily the best way to see the gorgeous capital cities of Estonia, Latvia, and Lithuania.
You can also extend your trip to Finland as we did (using Tallink Ferry) by getting the boat from Helsinki to Tallinn.
While we were traveling down The Baltics, we met a guy who was flying from Vilnius to Riga who didn't realize you could just get the bus for a few hours which was about half the price.
Why Visit Tallinn, Riga, and Vilnius by Bus Rather Than Flying?
Even though flying may sound quicker, as most of us know, by the time you get to the airport, get there early and then get through immigration, it's never actually quicker.
These three countries are wonderfully tiny; the stations are, for the most part, very central and drop you off centrally.
You can also get the train but we found the routes weren't direct, were more expensive, and not as quick as just taking the bus to Riga or Vilnius. They're also more comfortable given the wifi and free coffee bonus (see below).
Of course, you can do a road trip, it's very easy to drive in between cities and there are so many little places you can stop along the way. Driving is on the right throughout the three countries.
Read More: Books to Read Before You Visit The Baltics
What's the best bus service in the Baltics?
We usually use Flixbus to cheaply travel around Europe until we found out that they didn't service the Baltics area, mainly because the service of choice is Lux Bus.
I genuinely wish they went to more countries because, no word of a lie (and I'm not affiliated with them), it's the best bus service I've been on.
There's a TV screen like on a long haul flight with the latest movies, there's wifi that actually works, plug sockets, and comfortable seats. They even have a tea and coffee machine onboard which is a godsend for those longer trips.
Aside from being slightly cramped, which is pretty standard these days, I was completely happy on the bus journey through the Baltics.
We ended up using them to go on to Warsaw as well, even though there were other options. Their route stops there unfortunately but while you're traveling East Europe definitely hit up Lux Express.
Where is the Tallinn Bus Station?
The Tallinn Bus Station is actually quite a walk away from the city centre so if you're short on time or have a lot of luggage it'd definitely be worth getting a taxi (about five euro).
Otherwise, it's a 30-minute walk. But there are plenty of coffee shops and a mall along the way (plus the famous Hotel Viro – KGB headquarters) if you wanted to break the journey up.
Address: Lastekodu 46, 10144 Tallinn, Estonia
You can also take the tram (around 90¢) to the station '104B towards Kostivere', it stops four minutes away from the station and takes the journey to 18 minutes total.
You can buy a ticket from the driver at the front of the tram. Or the Balti Jaam Bus 121 for the same price and time. There are other options so just use Google Maps to find the most convenient tram or bus depending on your time and location.
What's nearby?
There's a shop within the station for getting some quick snacks or coffee before you hop on the bus, there are also toilets, otherwise, the amenities mentioned above are about fifteen minutes walk from the station. There's also a really cool old bus outside which is worth photographing!
Best Hotels in Tallinn
Savoy Boutique Hotel — Not to be mistaken with the famous London hotel, this charming Art Deco spot is in an ideal location close to the attractions and features a fantastic Estonian restaurant.
Marta's Guesthouse — Tallinn's only vegan hotel and cafe set in a traditional house with a cosy atmosphere. It's close to Old Town and is known for hosting musicians and writers and other inspiring folks.
They generally, encourage a creative atmosphere and are constantly restoring the old building using the funds from guests. A very memorable place to stay in Tallinn.
Where is the Riga Bus Station?
The Riga Bus Station is about a twelve-minute walk from Old Town so is very convenient. There are toilets and some small shops inside. Bear in mind this is one of the parts of town where pick-pocketing is a bit of an issue so make sure you have all your items secure before you get going.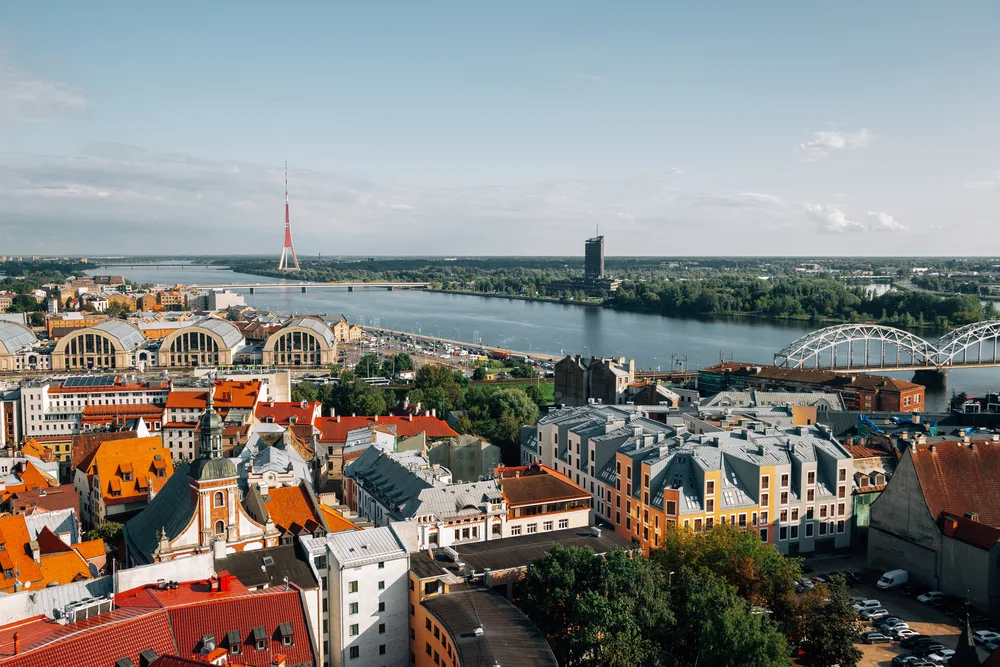 You can catch the tram (2 mins walk from the station) number 5 (Kengarags) or 7 (Iļģuciems) into Old Town if you'd rather not walk. You can also catch an uber.
Address: Latgale Suburb, Riga, LV-1050, Latvia
What's nearby?
You'll exit the station right next to the Old Central Market where you can see local life in action or grab some street food, the market is set within old military hangers so it's also just very impressive to look at.
Read More: 10 Amazing Things to Do on a Riga City Break
Best Hotels in Riga
Grand Poet Hotel: By far our favourite hotel in Riga, the breakfasts are insanely good (you can have breakfast champagne!) and having a hearty meal for free every day ended up saving us a lot of money.
It's in a great location for exploring Old Town and the newer parts of the city being right in the middle and has a 24-hour gym, and pool/sauna facilities.
Check out our full review of our stay at Grand Poet Hotel
Where is the Vilnius Bus Station?
It's an easy walk from the bus station to Vilnius Old Town, it takes eleven minutes. You can also catch the 89 bus to and from the station (Rotušė is the stop at the station and Bazilijonų st. if you're going from the station to town) or grab an uber.
What's nearby?
Honestly, very little! Although, they have some restaurants, small shops and a toilet within the station if you need refreshments.
Address: Sodų g. 22, Vilnius 03211
Best Hotels in Vilnius
Shakespeare Boutique Hotel — One for of us literary travellers, located in Old Town attached to the fantastic Shakespeare restaurant, you'll find the Hemingway room, the Oscar Wilde room, piles of books, writing desks, and opulent decoration.
Artagonist Art Hotel — Bursting with art and sculptures from local artists, this new and reasonably priced hotel is ideally located in Old Town.
Read More: What to Eat in Vilnius
Tips For Travelling in The Baltics
You usually have to pay for public toilets in The Baltics, around ¢30
You can use the euro (€) through all three countries
English is widely spoken but it's always nice to learn a few phrases
Lithuania is the cheapest of three countries
Caffeine is a Baltic coffee chain with good open wifi and toilets, they're everywhere
We love using Omio to book our trains and buses around Europe, if you use our referral code (jessie8m4s1c) when you book you'll get €10 off your total price and so do we!