If you're planning to visit The Baltics or are curious about the literature of Estonia, Lithuania, and Latvia then look no further than this Baltic book list.
The Baltic states refer to the countries of Estonia, Latvia and Lithuania, all of which were once part of the Soviet Union. This is pretty monumental in understanding Baltic literature as a lot of it — at least what is available in English – has to do with WWII, communism, and the Soviet occupation.
That isn't to say that Baltic literature didn't exist pre-1940s, but once again, what is available in English is limited. Indeed, the Baltics actually have a rich literary history, especially when it comes to folklore. Myths and legends remain incredibly important in the region.
This is evident in Estonia, considered to be one of the least religious countries in the world, where most of the population don't consider themselves religious or atheist, but celebrate the old pagan beliefs of their ancestors such as the solstices.
In fact, neopaganism is on the rise in Estonia.
Additionally, Lithuania continues to celebrate its mythical heroes with several sculpture parks, such as the Hill of Witches on the Curonian Spit or the fairy tale park in Palanga.
Luckily, as interest in the Baltic region grows, more and more literature is being translated, including contemporary literature. Some of which beautifully pays homage to this particular tradition of storytelling.
Great Works of Baltic Literature
It's safe to say I could have made this entire list of baltic literature about the region's tragic past. But there are some fantastic titles coming out of the region that wouldn't have made it were that the case, and that seems almost criminal. Still, it was incredibly difficult to narrow down this list!
While this is a list of fiction, there's some great non-fiction to read if you're looking to learn more about Baltic history or about the current geopolitical climate, a great example is an upcoming work The Shadow in the East: Vladimir Putin and the New Baltic Front by Aliide Naylor.
Right, let's dive into some of the best Baltic literature of all time.
Books Set in Estonia
Starting at the top of the Baltics, here are some books set in Estonia for you to dig into first, before you visit the Baltics yourself.
Translated by Christopher Moseley
It seems appropriate to start off with a book that is rooted in Estonian mythology. The Man Who Spoke Snakish is set in Medieval Estonia and explores the age old conflict of modernisation using magical realism and fairytales.
The Man Who Spoke Snakish is set in Medieval Estonia and explores the age old conflict of modernisation using magical realism and fairytales.
The book follows Leemet, a young Estonian boy, who grew up in the forest in isolation with his mother and sister following the death of his father. But Leemet speaks snakish so able is to converse with all animals.
The conflict arises as Leetmet grapples with the crumbling of his forest home and his family's traditional as more and more of the near villagers opt for city life, causing the forest to be cleared for housing.
Amidst Leemet coming to terms with the transformation of his way of life are the stories of the animals he shares the forest with, many of whom possess their own magical abilities.
Translated by Lola Rogers
When the Doves Disappeared follows three Estonians: freedom fighter, Roland, his opportunistic cousin, Edgar, and Juudit, the wife that Edgar has abandoned in order to save himself.
We see Roland, Edgar and Juudit's endure first in 1940 Nazi-occupied Estonia and then watch as they wrestle with past demons as their country falls under the watchful eye of Communist USSR.
This book adeptly explores the intricacies of war and oppression and the lengths people will go to in order to survive. If you're curious about life in Estonia under both these regimes, including the transition between them, this should be top of your reading list.
As an added bonus, you'll also learn about the long standing relationship between Estonia and Finland.
From 1993-94 Sigrid Rausing lived in Pürksi, a rural village in Noarootsi Parish on the peninsula of Estonia, carrying out anthropological fieldwork for her PhD.
Despite what the title may suggest, she does not live on a farm, but in a post-collectivism society. Collectivism being the strict agrarian rules laid out by the Soviets that enabled them to take control over farms and rural production.
Until a few years prior when Estonia regained independence, Noarootsi had been a protected zone under Soviet rule. When Rausing moved there, it felt considerably dreary and derelict.
Nevertheless, she sets out getting to know the locals and learn their stories. She is particularly interested in exploring memory in Estonia and how the repression of history had effected local perception of events.
Although the book is quite bleak at times, Rausing offers wonderful insight into post-Soviet and post-Collectivism life in rural Estonia, and the poverty of those left behind in smaller areas.
If you're looking for a non-fiction book set in Estonia – or the Baltics – that explores life for the average Estonian after Soviet rule, I highly recommend giving this one a go. It is rather heartbreaking at times, but shows a side of the country that tourists rarely see.
Everything is Wonderful is based on her anthropological research, but it is a memoir and reads without an academic lens.
Estonian Life Stories
Edited and translated by Tiina Kirss; compiled by Rutt Hinrikus
This book brings together 25 stories from Estonians who survived the 20th century.
Although all three Baltic countries recently celebrated 100 years of independence in 2018, the truth is that following their brief independence in 1920 from Russia (following the War of Independence which began in 1918), they were then occupied by Germany, and again by the Soviets.
Following the Depression, Estonia was under authoritarian rule from 1934 to 1938. This period is known as the Era of Silence. Sadly, their troubles were only just beginning, and in 1939, both Germany and the Soviet Union tried to annex Estonia.
For awhile, Germany did gain the greater foothold. As was happening all across, Estonia's Jews were thrown into camps and massacred. The Estonian Jews were almost completely wiped out.
Following WWII, the Soviet Union absorbed Estonia back into its embrace and began a reign of terror.
These wonderful stories of everyday Estonians doing what they can to get by provide great insight into life under foreign rule, as well as life in the Baltic states in general.
Books Set in Latvia
Latvia, and especially its capital city of Riga, is a place of stunning history and architecture, wonderful food, and some very vibrant and exciting literary history.
You can find out lots more on the Latvian Literature website where you can also discover Latvian translators, illustrators, history, and more. Here are some to get you started.
Translated by Kaija Straumanis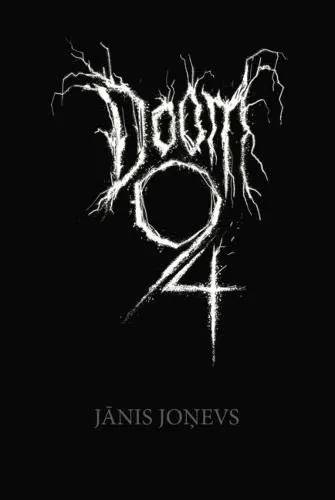 Doom 94 is a coming of age novel set in the Latvian town of Jelgava (the book was originally called Jelgava 94 in Latvian) that gives us an insight into the Latvia's youth of the 1990s.
The book explores the question of identity as the protagonist, Joņevs, his friends and family adjust to living in a newly independent nation following the collapse of the Soviet Union. And what better way to express their frustrations and individualism than through heavy metal music.
The book is a wonderful exploration of the Latvian subculture scene and everyday Latvian life during the 1990s. It's also a must read for music lovers.
edited by Becca Parkinson & Eva Eglaja-Kristsone
This is a short little book comprised of ten short stories by Latvian authors. The book is put out by Comma Press, who had also published similar collections for several other cities.
The Book of Riga opens with a forward by former Latvian president, Vaira Vike-Freiberga, detailing a brief history of Latvia. So even those completely unfamiliar with the history, will be able to put the stories into context once reading.
Not all of the stories will be for everyone but that's the beauty of this collection, it brings together various styles and narratives to tell the story of Riga – a city over 800 years old!
The stories range from supernatural ('The Night Shift') to the seemingly mundane ('The Girl Who Cut My Hair') as we see everyday Rigans living their lives. Baltic literature at its finest.
Among The Living And The Dead: A Tale of Exile and Homecoming on the War Roads of Europe by Inara Verzemnieks
Inara Verzemniek's grandmother, Livija, fled Latvia during WWII as the Nazis fought the Soviets over the Baltics. But Livija was separated from her sister, Ausma. Livija winds up as a refugee in America, while Ausma, and many members of their family, are exiled to Siberia.
Wanting to meet her family still living in Latvia, Inara travels to Latvia to stay with Ausma. There, she begins to unearth stories not only of Ausma's life, but of her grandmother's struggle, as well.
This exquisite memoir about family, love and hardship deftly recounts the stories of Inara's grandmother and grand-aunt during WWII and after as they try to piece back together their lives.
But the book also weaves in slices of Latvian life both before and during the war as Inara begins to better understand her family's history.
If you're looking for a good non-fiction read set in Latvia and the Baltics, this is the one!
Translated by Laurie Thompson
I love a good murder mystery set abroad. I actually think they there an excellent way to delve into some of seedier aspects of a country's history and culture.
Which is to say this particular murder mystery, set predominantly in Riga, explores an immediately post-Soviet Latvia as it tries to heal from over 50 years of oppression.
It's 1991 and Inspector Kurt Wallander is trying to unravel the mystery of two dead bodies washed ashore in Sweden. Wallander unexpectedly finds himself travelling to Riga – just across the Baltic Sea – as he continues to investigate the deaths.
The harder Wallander digs, the more frustrated he becomes, caught up in the never ending bureaucracy of a country trying to rebuild itself while still falling back into familiar territory.
He will have to get past police surveillance, corruption and secrecy if he's going to find out what happened!
Although it is second in the Wallender series, The Dogs of Riga reads fine as a standalone if you're only looking for books set in the Baltics, rather than an entirely new series to dig into.
I haven't read the first one, and there there were only a handful of references to what I assume happens in the first book, but nothing that terribly distracted from the story.
Read More: Find great things to do in Riga (including our favourite bookshops) in our Riga City Guide
Books Set in Lithuania
Lithuania is a peaceful, friendly, and beautiful place of jaw-dropping Communist history waiting to be explored. Before you set out, though, here are some of the very best books set in Lithuania.
Translated by Karla Gruodis
White Shroud, one of the great works of Baltic literature, is often considered required reading for Lithuanians, and for good reason.
Initially the book follows protagonist Antanas Garšva as he adjusts to emigre life in 1950s New York City. There he works as an elevator operator for a popular hotel, and he struggles to fit into his new life.
As the book progresses we begin to catch glimpses of his life in Lithuania both before and after WWII and what brought him to America in the first place.
White Shroud is written as a stream of consciousness, but it is never difficult to follow or engage with the narrator as he navigates between lives.
Translated by Elizabeth Novickas
If you ever go to Vilnius, the capital of Lithuania, one of the places you will inevitably find yourself visiting is Užupis, an [unofficial] independent nation within the city.
Today Užupis is a popular destination for tourists with a good quality of life — and as such prices have increased considerably. But that wasn't always the case.
In 1993, when Tūla was first published, Užupis was a Bohemian enclave stuffed full of starving artists and those who were merely starving.
Tūla follows an unnamed narrator as he navigates life in Užupis. The reader is introduced to a whole host of strange and mysterious residents of the city within a city.
However, none grab the narrators attention so much as the beautiful Tūla, a fellow misfit of Užupis.
Translated Elizabeth Novickas
Delve into the paranoid world of Soviet-occupied Lithuania. Vytautas Vargalys is paranoid. And why shouldn't he be after years spent in a labour camp? Now he does his best to keep to himself by working at a library – a place no one visits since knowledge is dangerous.
All around Vytautas people are dying – both physically and mentally. So he sets out to find who is destroying the people around him.
Set in Lithuania during the 1970s and 80s, Vilnius Poker perfectly embodies the rage, frustration and impotence of a people trapped under the thumb of Communism and Soviet rule. It is truly a miracle this book was even allowed to be published in 1989, even if the USSR was beginning to crumble.
It seems fitting to finish this list with a book that captures the importance of books and literature to the Baltic people.
This beautiful book tells the story of Ada and her grandfather, Viktoras. It is 1902, and Viktoras is a book smuggler. He risks his life to smuggle books in and around Lithuania under the watchful eye of Russia's Red Army.
He does this because he understands the significance of keeping his language alive, despite the Russian Empire's attempts to erase it from memory.
The Last Book Smuggler demonstrates the lengths some will go to in order to protect the sanctity of language for future generations. But it is also a book about love, loss, struggle, and resistance.
This piece of Baltic literature is based on Birute Putrius' real grandfather, who was, in fact, a book smuggler.