Bali is a small province of the much larger Indonesia, composed of the island bearing the province's name, as well as several lesser islands such as Nusa Penida, Nusa Ceningan, and Nusa Lembongan.
These islands have been inhabited for thousands of years as culture thrived upon them, and still does to this day. Bali, along with several other island nations and provinces such as Malaysia and the greater whole of Indonesia is part of a region known as the Coral Triangle.
This locale is home to the largest amount of biodiversity recorded among marine life and is currently thought to be home to over five hundred unique species of coral builders.
The province also contains many adherents of Hinduism, and many cultural sites related to that faith, an abnormality within Indonesia which has a majority Muslim population. It would be wise to treat these places with respect, especially if you happen to visit one of these temples during a religious event.
There are many unique places to see in Bali, but before you head out you need to make sure you have everything you need to have a safe and successful trip abroad.
A basic Bali checklist would include things like a comfortable backpack, sunscreen, insect repellant, as well as appropriate clothing for hot weather and potentially wet encounters. Bali also uses different electrical outlets than ones in the United States, so getting a travel adaptor is also important if you want to keep your electronics fully charged.
While Bali is a relatively safe country, it is also advisable to have a way of concealing your money or other valuables if you happen to find yourself in one of Bali's denser urban centres. Overall, Bali and its neighbouring island harbour beautiful sites and exciting locations to visit.
Unique Places to See in Bali, Indonesia
If you're ready to discover some fascinating, cultural places in Bali then you simply can't find elsewhere then enjoy these ten locations.
1) Underwater Temple Garden

Off the coast of the island of Nusa Penida, there is a rather peculiar temple that lies beneath the waves, housing several submerged statues of important Hindu figures.
While the architecture and statues may appear ancient, as though they have been slowly consumed by the rising ocean over hundreds or even thousands of years, the temple is a recent construction designed to create an artificial coral reef.
The statues and other monuments are meant to act as anchoring points for coral-building organisms to latch onto and begin to build their colonies. This has proven to be a great success as many of the statues and edifices have been coated in coral, allowing the tiny creatures to prosper and build a new ecosystem. Even if the temple is a more recent construction, rather than a relic of a lost age, it is still a beautiful site to visit and take a snorkel through.

2) Pura Goa Lawah

This is one of the more iconic temples of the Balinese people and is a genuine temple rather than simply a conservation piece like the previous entry. Built around the maw of a rather extensive cave network, this temple hosts flocks of bats that would not seem out of place in Bram Stoker's famous work about a certain vampire. These cave-dwelling creatures are not dangerous to humans though and would rather nibble on fruit than suck your blood.
This temple is also one of the 'directional temples' of which there are nine in total. Another entry on this list, Pura Tanah Lot is also one of these special temples. Dedicated to honouring certain gurus and holy men of the Hindu religion, this temple will also be home to throngs of pilgrims at almost all times during the year.
There is also a beach close to the temple that is coated in luxurious black sand, as well as offering a decent view of the neighbouring island of Nusa Penida.
Read More: A Helpful Guide to Life in Canggu, Bali
3) Trunyan Village Cemetery

The people of Trunyan village have a very distinct burial ritual that differs from most of the modern world. Instead of burying, cremating, or disposing of their dead at sea, the people here strap their dead into bamboo cages before placing them at the base of a large Banyan tree.
The pleasant scents of the tree would mask the decaying stench of the bodies as the people of Trunyan village waited for the flesh of the dead to be rotted away.
Once the flesh was gone, the skulls of the dead would be taken and cleaned before being added to a large shrine around the base of the Banyan tree. It is quite a sight to behold, and the burial practices are on full display to this day despite being an ancient tradition.
This locale is less advisable for those with small children, as there are real corpses on display and in the process of rotting.

4) Bengkala Village

There are many rural and remote areas on the island of Bali, as well as its surrounding islands but the village of Bengkala is quite an oddity even among them.
Located in the northern portion of the main island of Bali, this village has a population where over two per cent of the people are born deaf. For reference, the United States reports about 0.003% of children being born having some type of hearing loss. Caused by a defective gene rather than any pre-natal effects, the deafness has been passed down over seven generations.
This larger than average incidence of deafness has led to the creation of a unique form of sign language known as the Kata Kolok, or 'deaf talk' in English, as well as numerous dances and martial arts forms that pay reverence to a deaf deity who is worshipped by both deaf and non-deaf villagers alike.
The deaf of this village is treated very well, with many of the non-deaf villagers learning Kata Kolok to better facilitate communication with their deaf neighbours and relatives.

5) Pura Mobil

The Pura Mobil, or Car Temple in English, is an odd temple by the standards of Hinduism. Located on the island of Nusa Penida, instead of displaying statues of the Hindu deities or other important religious figures, the temple instead has cars.
The elders who steward the temple also claim to have no knowledge of how or why these statues were built in this way, even claiming they were built before cars had arrived in Indonesia.
There is another claim that the creators of these statues were contacted in a vision and instructed to build the temple in this way, possibly by their ancestors. The true answer may not ever be discovered, but this temple is still certainly worth a stop if you find yourself on Nusa Penida.

6) Gala-Gala Underground Home

On the island of Nusa Lembongan, there is a labour of love in the form of an underground dwelling constructed entirely by one man. Made Byasa is the owner of this underground domicile and was inspired to build it based on a story contained in the Mahabharata where the heroes of the story hid in a cave to avoid their enemies.
The Mahabharata is a long ancient form story known as an epic, like the Iliad. This dwelling was completed in 1976 and lies about seven meters underground. A kitchen, living room, and bedroom were all carved out of the limestone to make for a delightful underground dwelling that is open for visitors.
Read More: Books to Read before You Travel Southeast Asia

7) Majestic Blow Hole

Along the cliffs of the island of Nusa Dua lies a locale known as the Majestic Blow Hole, so named for the forceful currents of water that culminate in a powerful surge of water shooting into the sky.
The hike to this natural wonder from Nusa Dua Beach is not a long or strenuous one, though it would be advised to bring a towel and make sure your tech stays in a waterproof bag. The surges of water can be unpredictable, especially at high tide when the water is the most turbulent.
The site might even be closed for safety concerns if the water is too tumultuous, though it likely will not be closed for more than a few hours unless a major storm is on the horizon. Travel to the blowhole can be accomplished both on foot and by vehicle, making this an easy destination if your vacation is centred on the island of Nusa Dua.

8) Ghost Palace Hotel

A hotel is usually the first spot to stop on your vacation, though this one does not have very many amenities. This hotel was planned to be a mountain resort but was never brought to fruition, leaving the abandoned edifice to slowly deteriorate.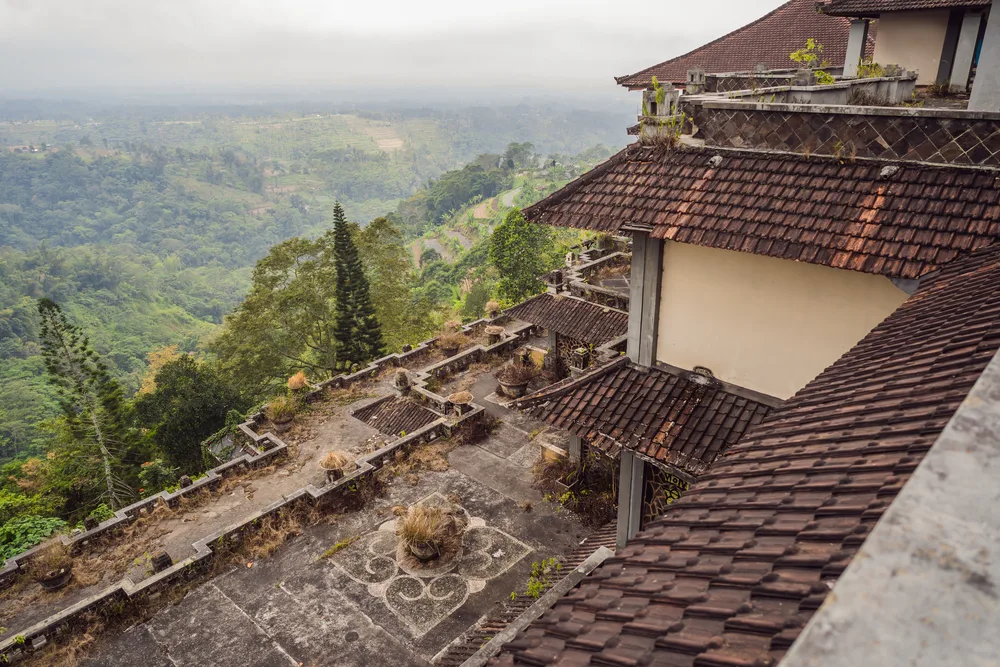 Locals shy away from the hotel as they believe it to be inhabited by malicious spirits brought on by the misdeeds of the owner. This owner, Tommy Suharto, has indeed been involved in shady business and was arrested in 2002 for his role in trying to have a judge of Indonesia's Supreme Court assassinated. This judge had previously convicted him on other charges related to corruption.
While it is not generally open to the public, the guards at the entrance could be convinced to let you in if you show them some coin. This is another location also not recommended for youngsters if you plan to explore the hotel in-depth as the lack of upkeep has resulted in damage and wear on the structure.

9) Subak System Rice Terraces

There is a large, sprawling network of rice terraces on the main island of Bali that covers over seventy-six square miles of the island. These terraces all operate on the same irrigation system known as the Subak System.
This system was established in the ninth century and has persisted since then as a harmonious collective between man and nature. Water for this system is managed in dedicated water temples, while the water is sourced from several rivers that flow across the island.
These temples are stewarded by priests who practice a philosophy of Tri Hita Karana, or balance between humans, the earth, and the gods. Balance is a key facet of this philosophy and it is exemplified in the careful management of the water resources that supply these terraces, along with the preservation of the ecosystem that safeguards the water used by the terraces.
Viewed as essential to preserving the unique culture of the Balinese people, the entire Subak System has been declared as a UNESCO world heritage site in the year 2012. This is a place to be treated with reverence as it is a fundamental component of Balinese spirituality.

10) Pura Tanah Lot

Bali is home to many temples, some more unique than others. The Pura Tanah Lot, known as Tahna Lot Temple in English, is a rather compact temple built atop a rock resting on the edge of the shore of the main island of Bali. This temple is one in a set of seven designed to protect the island of Bali from bad omens originating from the sea.
A good portion of the original rock that the temple had been built on has begun to crumble under the constant assault of the ocean waves, though many of these failing stones have been replaced with artificial ones to prolong the life of the island and shrine.
The temple is also relatively new, though still several hundred years old, having been constructed in the 18th century, making it almost nine hundred years younger than the Subak System terraces.
There are also recent additions of gift shops and restaurants around the temple, adding in a touch of the contemporary to this spiritual site. The view from the shrine is one to behold, especially at sundown as the sun reflects across the ocean water. You will not regret making a stop at this temple.
Final Thoughts
Bali is home to many wondrous man-made and naturally occurring sites, with a distinct cultural feel even when compared to the greater whole of Indonesia. Hinduism is a large part of the lives of the Balinese, and that is reflected in their architecture and the numerous temples that dot the province's islands.
There are also more localized beliefs practised, such as the burial rites of the Trunyan people, or the philosophy of the Subak System. Bali is a beautiful place to visit, and you will not regret planning a vacation to this island paradise.
– Written by Catalin Geangos of Travel Trained