We have fervently celebrated not only our ten best translated books of 2019, but also the best indie publishers of 2019. Now, it's time to look to the future and see what 2020 has to offer in the wonderful world of literature in translation: the most exciting translated books of 2020.
Translated Books of 2020
Let's take a look at the first half of the year – January to June – and all of the translated books that have got us, and so many people, shaking with anticipation. These are the fifteen translated books we are most excited about, coming from January to June 2020.
If you're specifically excited for Korean and Japanese books coming in 2020, we've got two designated lists just for you: 10 Korean books coming in 2020 and 10 Japanese books coming in 2020.
Disclaimer: As with every year, we have not yet read all of these books and so our descriptions of each one here come directly from the publishers. Reviews will be released close to each book's publication.
January
An Apartment on Uranus by Paul B. Preciado
Translated from the French by Charlotte Mandell
Published by Fitzcarraldo Editions
The first 2020 translated book on our list is also the only one that isn't fiction. This collection of essays is an intensely intellectual and revolutionary examination, deconstruction, and reconstruction of gender and sexuality from a personal and a global perspective.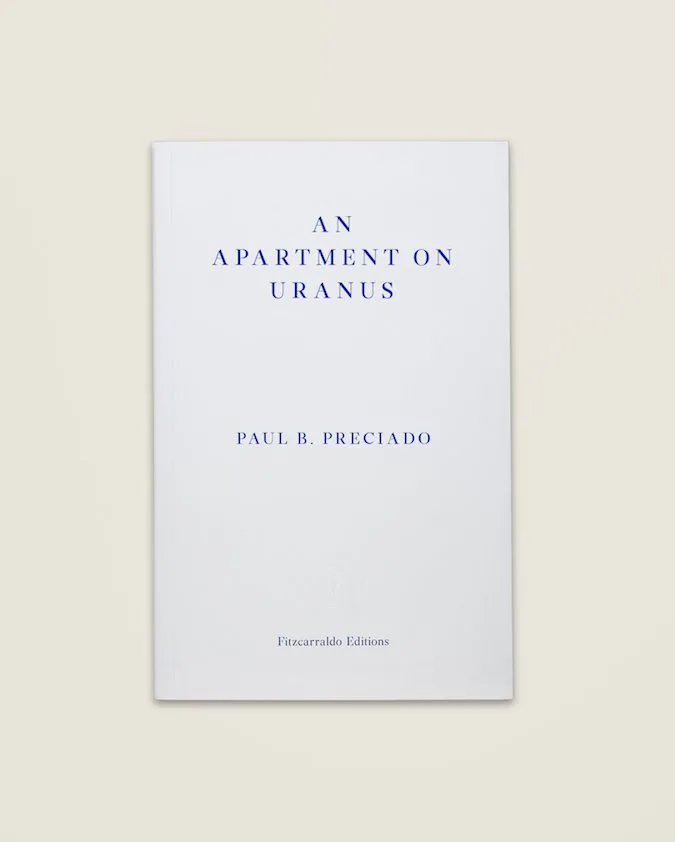 From the publisher:
"Uranus, the frozen giant, is the coldest planet in the solar system, as well as a deity in Greek mythology. It is also the inspiration for uranism, a concept coined by the writer Karl Heinrich Ulrich in the 1864 to define the `third sex' and the rights of those who `love differently'.
Following in Ulrich's footsteps, Paul B. Preciado dreams of an apartment on Uranus where he might live beyond existing power, gender and racial strictures invented by modernity. `My trans condition is a new form of uranism,' writes the author. `I am not a man. I am not a woman. I am not heterosexual. I am not homosexual. I am not bisexual. I am a dissident of the genus-gender system. I am the multiplicity of the cosmos trapped in a binary political and epistemological system, shouting in front of you. I am a uranist confined inside the limits of technoscientific capitalism.'
This book, a chronicle of a crossing, recounts the process of transforming from Beatriz into Paul B. during which the author transformed his body and subjectivity through the self-administration of testosterone. Yet An Apartment on Uranus is not simply an account of gender transitioning, but rather of a global transition: Preciado analyses other processes of political, cultural and sexual transition, reflecting on socio-political issues including the rise of neo-fascism in Europe, the migrant crisis, the Zapatista struggle in Mexico, the fight for Catalonian independence, Julian Assange, sex work, Trump's America, the harassment of trans children, the technological appropriation of the uterus, and the role museums might play in the cultural revolution to come."
Untold Night and Day by Bae Suah
Translated from the Korean by Deborah Smith
Published by Penguin Random House
Bae Suah shares the number one spot on my personal list of favourite Korean contemporary writers with Pyun Hye-young, who, incidentally, is also on this list, making 2020 a very exciting year indeed.
From the publisher:
"For two years, twenty-eight-year-old Kim Ayami has worked at Seoul's only audio theatre for the blind. But now the theatre is shutting down and Ayami's future is uncertain.
Her last shift completed and the theatre closed for good, Ayami walks the streets of the city with her former boss late into the night. Together they search for a mutual friend who has disappeared. The following day, at the request of that same friend, Ayami acts as a guide for a detective novelist visiting from abroad.
But in the inescapable, all-consuming heat of Seoul at the height of the summer, order gives way to chaos, the edges of reality start to fray, and the past intrudes on the present in increasingly disruptive ways."
February
Kim Jiyoung, Born 1982 by Cho Nam-ju
Translated from the Korean by Jamie Chang
Published by Simon & Schuster
This novel, which has already been adapted into a successful film in its native South Korea, has been seen as something of a feminist revolution, to the joy of some and the ire of others. The novel releases in English in February and we couldn't be more excited.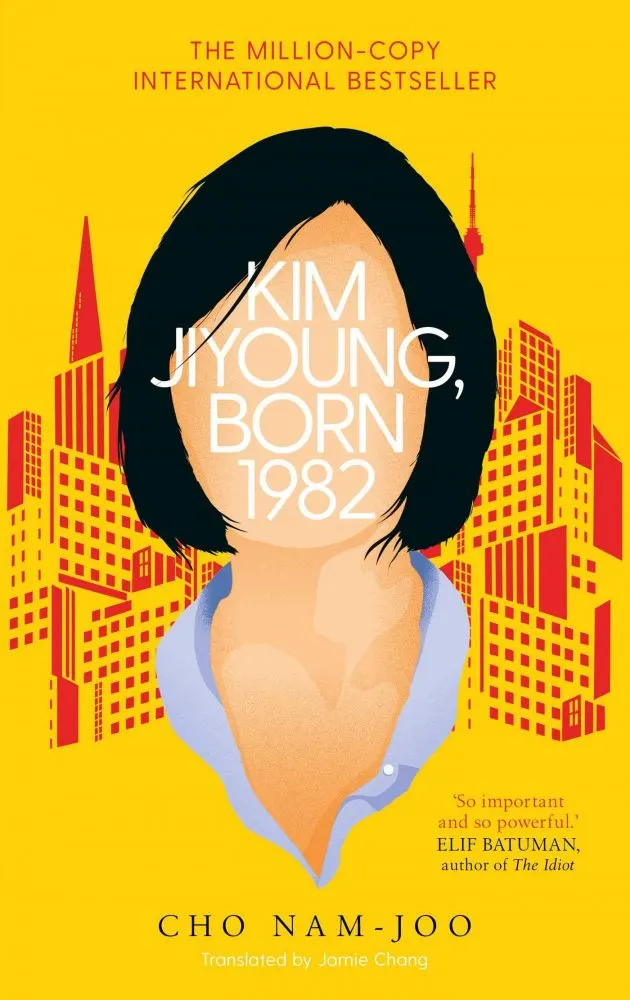 From the publisher:
"Kim Jiyoung is a girl born to a mother whose in-laws wanted a boy.
Kim Jiyoung is a sister made to share a room while her brother gets one of his own.
Kim Jiyoung is a female preyed upon by male teachers at school. Kim Jiyoung is a daughter whose father blames her when she is harassed late at night.
Kim Jiyoung is a good student who doesn't get put forward for internships. Kim Jiyoung is a model employee but gets overlooked for promotion. Kim Jiyoung is a wife who gives up her career and independence for a life of domesticity.
Kim Jiyoung has started acting strangely.
Kim Jiyoung is depressed.
Kim Jiyoung is mad.
Kim Jiyoung is her own woman.
Kim Jiyoung is every woman.
Kim Jiyoung, Born 1982 is the South Korean sensation that has got the whole world talking. The life story of one young woman born at the end of the twentieth century raises questions about endemic misogyny and institutional oppression that are relevant to us all."
Where the Wild Ladies Are by Matsuda Aoko
Translated from the Japanese by Polly Barton
Published by Tilted Axis Press
The Tilted Axis book of 2020 which we are most excited about has also been translated by one of our favourite Japanese to English translators. Traditional Japanese ghost stories retold with a feminist edge? I can't think of a book I'd rather own. Like, in the whole world. Let alone from our 2020 translated books list.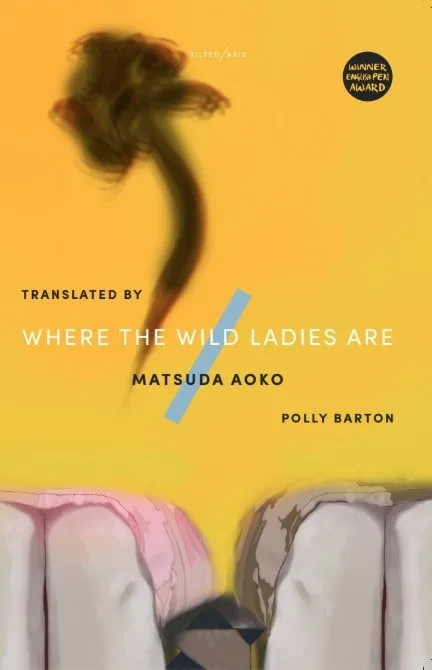 From the publisher:
"Witty, inventive, and profound, Where the Wild Ladies Are is a contemporary feminist retelling of traditional ghost stories by one of Japan's most exciting writers.
In a company run by the mysterious Mr Tei, strange things are afoot – incense sticks lead to a surprise encounter; a young man reflects on his mother's death; a foxlike woman finally finds her true calling. As female ghosts appear in unexpected guises, their gently humorous encounters with unsuspecting humans lead to deeper questions about emancipation and recent changes in Japanese women's lives."
Hurrican Season by Fernanda Melchor
Translated from the Spanish by Sophie Hughes
Published by Fitzcarraldo Editions
We've said it more than once and I'm happy to reiterate for clarity here: the translated literature coming out of Latin America is some of the most wonderfully inventive, fierce, and visionary literature in the world today, and so it goes without saying how excited we should all be for this 2020 book.
From the publisher:
"The Witch is dead. After a group of children playing near the irrigation canals discover her decomposing corpse, the village of La Matosa is rife with rumours about how and why this murder occurred.
As the novel unfolds in a dazzling linguistic torrent, Fernanda Melchor paints a moving portrait of lives governed by poverty and violence, machismo and misogyny, superstition and prejudice.
Written with an infernal lyricism that is as affecting as it is enthralling, HURRICANE SEASON, Melchor's first novel to appear in English, is a formidable portrait of Mexico and its demons, brilliantly translated by Sophie Hughes."
The Wandering by Intan Paramaditha
Translated from the Indonesian by Stephen J. Epstein
Published by Harvill Secker
Paramaditha's collection of twisted, dark, feminist folk tales, Apple and Knife was one of our top books of 2018. Now, in true subversive Paramaditha fashion, she has brought us a choose-your-own-adventure story with a twist.
From the publisher:
"You've grown roots, you're gathering moss. You're desperate to escape your boring life teaching English in Jakarta, to go out and see the world. So you make a Faustian pact with a devil, who gives you a gift, and a warning. A pair of red shoes to take you wherever you want to go.
You're forever wandering, everywhere and nowhere, but where is your home?
And where will you choose to go?"
Tender is the Flesh by Agustina Bazterrica
Translated from the Spanish by Sarah Moses
Published by Pushkin Press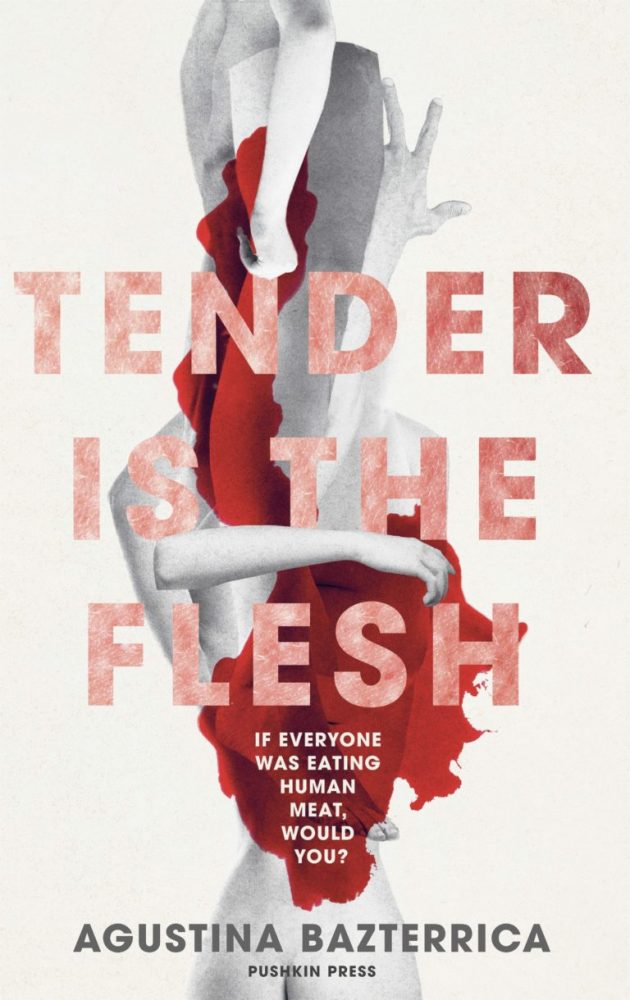 From the publisher:
"It all happened so quickly. First, animals became infected with the virus and their meat became poisonous. Then governments initiated the Transition. Now, 'special meat' – human meat – is legal.
Marcos is in the business of slaughtering humans – only no one calls them that. He works with numbers, consignments, processing. One day, he's given a gift to seal a deal: a specimen of the finest quality. He leaves her in his barn, tied up, a problem to be disposed of later.
But she haunts Marcos. Her trembling body, and watchful gaze, seem to understand. And soon, he becomes tortured by what has been lost – and what might still be saved."
March
Fate by Jorge Consiglio
Translated from the Spanish by Carolina Orloff and Fionn Petch
Published by Charco Press
If we're beginning to sound like a stuck record, we apologise, but Charco Press is our favourite indie press in the world. They offer bundles of everything they publish in a year and, honestly, just buy them. They will be good. No, great. They're always, always great. And Fate is the first of their 2020 translated books.
From the publisher:
"The plot of this novel is focused on a group of characters, each endeavouring to make a mark on their own fate. However, their desire to lead a genuine existence will lead them to face the most difficult decisions, and to break away from comfortable habits.
Carl and Marina have been living together for over ten years and have a six-year old son, Simón. Carl is an oboist at the national orchestra, and Marina is a meteorologist. Then there is Amer, a successful taxidermist. In a self-help group for smokers who want to quit, Amer meets Clara, 20 years younger than him.
While the relationship between Carl and Marina is breaking up, the relationship between Amer and Clara is just beginning. Or already at the end? Immersed in their loneliness and existential confusion, the lives of these characters intermingle in an exquisitely written, captivating novel which attempts to narrate that fleeting, and intrinsically profound, moment in our adult lives when we look in the mirror and discover that we don't like what we see, or no longer recognise ourselves.
From one of the most renowned writers of contemporary Argentinian literature, comes this intense nouvelle which tackles the big existential questions that haunt us, through a tone and style that will enrapture readers with their beauty, poetry and sense of mystery. A gem."
April
The Law of Lines by Hye-young Pyun
Translated from the Korean by Sora Kim-Russell
Published by Arcade
Hye-young Pyun has a very special place in our hearts. Her horror novel, The Hole, was the first book we ever reviewed. And her Kafkaesque thriller City of Ash and Red was one of our top books of 2018. All signs point to this being one of the best 2020 translated books.
From the publisher:
"The Law of Lines follows the parallel stories of two young women whose lives are upended by sudden loss. When Se-oh, a recluse still living with her father, returns from an errand to find their house in flames, wrecked by a gas explosion, she is forced back into the world she had tried to escape. The detective investigating the incident tells her that her father caused the explosion to kill himself because of overwhelming debt she knew nothing about, but Se-oh suspects foul play by an aggressive debt collector and sets out on her own investigation, seeking vengeance.
Ki-jeong, a beleaguered high school teacher, receives a phone call that the body of her younger half-sister has just been found. Her sister was a college student she had grown distant from. Though her death, by drowning, is considered a suicide by the police, that doesn't satisfy Ki-jeong, and she goes to her sister's university to find out what happened. Her sister's cell phone reveals a thicket of lies and links to a company that lures students into a virtual pyramid scheme, preying on them and their relationships. One of the contacts in the call log is Se-oh."
Wild Swims by Dorthe Nors
Translated from the Danish by Misha Hoekstra
Published by Pushkin Press
From the publisher:
"In this dazzling new collection, the acclaimed Danish writer Dorthe Nors creates a series of intimate, psychologically acute portraits of individuals in states of emotional crisis: a woman's attempts to cope with a recent breakup lead her to commit a deeply immoral act, a professor's relationship with a much older woman takes a sudden sinister turn, a man who has grown resentful of his partner takes drastic action, and a young woman's nostalgic memories of wild swimming draw her back to the water.
In attempting to escape the present moment, Nors' characters must confront the impact of the past. In prose that is both elegantly spare and saturated with emotion, Nors explores the relationships that we have with others, and those we forge with ourselves, with characteristic empathy and insight."
Breasts and Eggs by Mieko Kawakami
Translated from the Japanese by Sam Bett and David Boyd
Published by Europa Editions
From the publisher:
"An earlier novella published in Japan with the same title focused on the female body, telling the story of three women: the thirty-year-old unmarried narrator, her older sister Makiko, and Makiko's daughter Midoriko. Unable to come to terms with her changed body after giving birth, Makiko becomes obsessed with the prospect of getting breast enhancement surgery. Meanwhile, her twelve-year-old daughter Midoriko is paralyzed by the fear of her oncoming puberty and finds herself unable to voice the vague, yet overwhelming anxieties associated with growing up. The narrator, who remains unnamed for most of the story, struggles with her own indeterminable identity of being neither a "daughter" nor a "mother." Set over three stiflingly hot days in Tokyo, the book tells of a reunion of sorts, between two sisters, and the passage into womanhood of young Midoriko.
In this greatly expanded version, a second chapter in the story of the same women opens on another hot summer's day ten years later. The narrator, single and childless, having reconciled herself with the idea of never marrying, nonetheless feels increasing anxiety about growing old alone and about never being a mother. In episodes that are as comical as they are revealing of deep yearning, she seeks direction from other women in her life—her mother, her grandmother, friends, as well as her sister—and only after dramatic and frequent changes of heart, decides in favor of artificial insemination. But this decision in a deeply conservative country in which women's reproductive rights are under constant threat is not one that can be acted upon without great drama.
Breasts & Eggs takes as its broader subjects the ongoing repression of women in Japan and the possibility of liberation, poverty, domestic violence, and reproductive ethics. Mixing comedy and realism, it is an epic life-affirming journey about finding inner strength and peace."
May
Little Eyes by Samanta Schweblin
Translated from the Spanish by Megan McDowell
Published by Riverhead
Renowned and celebrated short story author, whose previous collection Mouthful of Birds chilled me to my core, brings to our list of 2020 translated books her second novel: Little Eyes.
From the publisher:
"They've infiltrated homes in Hong Kong, shops in Vancouver, the streets of Senegal, town squares of Oaxaca, schools in Tel Aviv, bedrooms in Ohio. They're following you. They're everywhere now. They're us.
In Samanta Schweblin's wildly imaginative new novel, Little Eyes, "kentukis" have gone viral across the globe. They're little mechanical stuffed animals that have cameras for eyes, wheels for feet, and are connected to an anonymous global server. Owners of kentukis have the eyes of a stranger in their home and a cute squeaking pet following them; or you can be the kentuki and voyeuristically spend time in someone else's life, controlling the creature with a few keystrokes. Through kentukis, a jaded Croatian hustler stumbles into a massive criminal enterprise and saves a life in Brazil, a lonely old woman in Peru becomes fascinated with a young woman and her louche lover in Germany, and a motherless child in Antigua finds a new virtual family and experiences snow for the first time in Norway.
These creatures can reveal the beauty of connection between farflung souls – but they also expose the ugly humanity of our increasingly linked world. Trusting strangers can lead to unexpected love and marvelous adventure, but what happens when the kentukis pave the way for unimaginable terror?"
Four by Four by Sara Mesa
Translated from the Spanish by Katie Whittemore
Published by Open Letter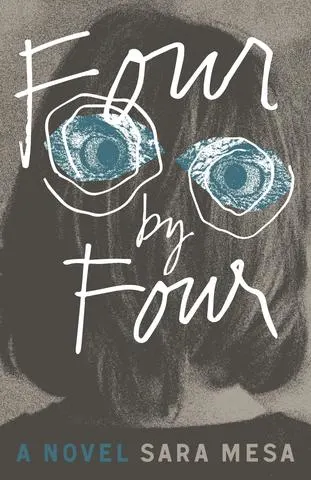 From the publisher:
"Set entirely at Wybrany College—a school where the wealthy keep their kids safe from the chaos erupting in the cities—Four by Four is a novel of insinuation and gossip, in which the truth about Wybrany's "program" is always palpable, but never explicit. The mysteries populating the novel open with the disappearance of one of the "special," scholarship students. As the first part unfolds, it becomes clear that all is not well in Wybrany, and that something more sordid lurks beneath the surface."
June
Bluebeard's First Wife by Ha Seong-nan
Translated from the Korean by Janet Hong
Published by Open Letter
Ha Seong-nan's short story collection, Flowers of Mold, took the number four spot on our list of best translated books 2019, and now we already have yet another short story collection from her to sink our teeth into in 2020, translated once again by one of our most cherished translators, Janet Hong. This is another thrilling collection on our list of translated books of 2020.
From the publisher:
"Disasters, accidents, and deaths abound in Bluebeard's First Wife. A woman spends a night with her fiancé and his friends and overhears a terrible secret that has bound them together since high school. A man grows increasingly agitated by the apartment noise made by a young family living upstairs and arouses the suspicion of his own wife when the neighbours meet a string of unlucky incidents.
A couple moves into a picture-perfect country house, but when their new dog is stolen, they become obsessed with finding the thief, and in the process, neglect their child. Ha's paranoia-inducing, heart-quickening stories will have you reconsidering your own neighbours."
A Musical Offering by Luis Sagasti
Translated from the Spanish by Fionn Petch
Published by Charco Press
From the publisher:
"In the 18th century, Count Keyserling commissions Johann Sebastian Bach to compose a piece of music that will finally allow him to fall asleep. Bach, surpassing all expectations, creates an aria containing thirty variations that became known as the Goldberg Variations, in honour of its first performer, put in charge of playing the piece night after night until the count fell asleep. With this story, Luis Sagasti opens a hypnotic tale full of counterpoints that, just like the Variations, sets out to follow the turns of a melody so as to arrive at the final aria­—where­ everything begins again.
Like Goldberg repeating melodies over and over for the Count to rest, Sagasti narrates for us a thousand and one stories that take the reader from Bach to Gould, from Gould to the Beatles, from Sergeant Pepper to the music that was played in Nazi concentration camps, and from there to 4'33'' by John Cage, to The Who and so on, ad infinitum. But when do we end a story? When do we decide to sing the final lullaby? For Sagasti, undoubtedly, the cosmic order is a musical one."