Rome is a city that certainly deserves its reputation – walking along the cobbled streets, you can't help but feel the history coming alive around you and its thriving culture blowing you away every time.
Many writers have been captivated by the Eternal City, as suggested by its frequent appearance in many fantastic books. Here are just a few of the best books about Rome that capture different perspectives of the beautiful city.
Eat, Pray Love by Elizabeth Gilbert
Many are familiar with Gilbert's popular novel/memoir, Eat, Pray, Love. One of the best books about Rome depicts a woman who travels around the world after filing for divorce from her husband.
Her first pitstop is Italy, where both Rome and Naples are explored.
Her travels are all about rediscovering herself while trying to pull herself out of depression. And what better place to do that than Rome?
Liz wanders around the labyrinth of beautiful architecture, cobbled streets, and monuments dotted around the city, including the notorious breathtaking view of Tiber River from the top of Castel Saint'Angelo. While also making the food that Rome has to offer, of course.
Pictures From Italy by Charles Dickens
Jumping back in time to the Victorian era, Pictures From Italy is a travelogue documenting Dickens' travels in 1844.
This classic text makes a beautiful read before travelling to Rome as it helps paint a picture of Rome during a more recent era than the Ancient and Medieval times with which the city is usually associated, making it one of the very best books about Rome.
Dickens is known for his literary descriptions and social commentary of Victorian England. In this book, he applies the same novelist eye to Rome and the rest of Italy, placing the stark contrast to industrial Britain in the spotlight.
It's worth reading as Dickens portrays Rome's modernisation during a different time, the effects of which are still visible today.
SPQR by Mary Beard
This one is for the non-fiction lovers: Mary Beard takes us on a journey through Rome's vibrant history using the voices of people often overlooked throughout Italian history – women, children and the poor.
Similar to Dickens, Beard exposes Rome in a new way in SPQR, using the above demographics she chose to depict a different side to the popular stories and legends that we all know today.
Rome Tales by Hugh Shankland & Helen Constantine
This collection of stories span hundreds of years and create a vivid image of Rome through the works of well-known Italian authors, such as Boccaccio and Casanova.
What's interesting about this book is that the stories are not in chronological order. Instead, they're ordered in a way that reflects Rome's current state: a modern city that continues to thrive, placed between ancient tales told by breathtaking monuments standing strong over the cobbled streets.
Each story adds a different layer to the city, which resonates with you as you explore Rome yourself.
Read More: the Italian literature masterpiece A Devil Comes to Town
A Literary Companion To Rome by John Varriano
This book is a spectacular addition to your suitcase. A Literary Companion To Rome provides ten different walking tours around Rome guided by the words of many beloved writers, including Dante, Dickens, and Wilde – all of which have documented their adoration for the city in one way or another.
Rome has many literary hotspots for bookworms alike, but for those who still can't get enough, this book allows you to walk through the steps of literary legends and discover parts of Rome that you may not have found before.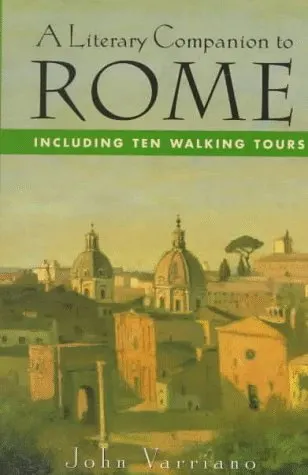 Angels And Demons by Dan Brown
Dan Brown's Robert Langdon series needs no introduction – it's praised all over the world.
In Angels And Demons, we explore the labyrinth of the grand, stately rooms of The Vatican, where a canister guards the buildings waiting to explode.
The religious history of the city is explored, including the Vatican's archives, Santa Maria Della Victoria Basilica, and the Pope's tunnel that connects Castel Saint' Angelo to his library in The Vatican. Paintings by Baroque artist Gian Lorenzo Bernini also play a significant role.
While there are many proven inaccuracies in the plot of this novel, it's certainly still enjoyable. And it's nice to read a story that's so involved in the Vatican itself, providing us with another type of entry into the museums.
Italian Hours by Henry James
The final sentence of this book is 'the luxury of loving Italy,' which captures the feeling of living life to the fullest Rome – it's undoubtedly one unlike any other.
James wrote his travelogue Italian Hours in the late 19th century and is composed of essays of praise and evaluation of the Italian culture that he witnessed.
However, what I like about this collection is that it juxtaposes the luxury of Rome with that of the poor and more disadvantageous. This opens our eyes to the diversity of Rome's population and the voices that come together, telling the stories of Italy. Of course, this idea is applicable today.
Conclave by Robert Harris
Conclave has been described as 'unputdownable' by The Guardian; this novel is about the Cardinals of The Vatican deciding the next successor of the Pope now that he is dead.
Of course, it's not that simple, as many holes are discovered while tracing his death, and more secrets are revealed – not only concerning the Pope, but the cardinals and the Vatican itself as the story goes on.
This novel takes us further into The Vatican than we can ever possibly go – into the debates of the cardinals as they try to decide on the next Pope.
While the book is obviously fictitious, it's interesting to look at The Vatican from the perspective of someone who's inspired by the people who work within the museums themselves.
Conclusion
These books add different layers to Rome, and when combined, we see a clear picture of what the city looks like from the many aspects of Roman society – past and present, which is what makes these eight books some of the very best books about Rome.
The writers of these books were captivated by their explorations of the Eternal City – and it's not hard to see why. Rome is full of history that's surrounded by vibrant culture, unlike any other, formed from its well-known, varied history.
These writers appreciated this when they visited Rome, and after reading them, you certainly will, too.
If you loved these books about Italy, check out some of our other book lists from cities around the world.