When we picture Kyoto, the first thing that jumps to mind are the shrines, bamboo forests, and geisha.
It's hard to believe that a couple of hours outside of the city proper will take you to landscapes to so vastly different, where people live a traditional lifestyle far away from the modern aspects of Japan we know of, or the highly polished tourist trail that we expect to see.
Having grown up by the sea, and now finding myself in metropolis after metropolis, I jumped at the chance to experience the quieter seaside life of rural Japan; Ine was exactly that.
While it's not on the typical tourist trail, it's not hard to reach Ine by yourself; and seeing a new side to Japan is very worth the effort. If you are looking for the best of the tourist attractions in Kyoto, you can check out this post or enjoy this three-day itinerary for Kyoto and Osaka.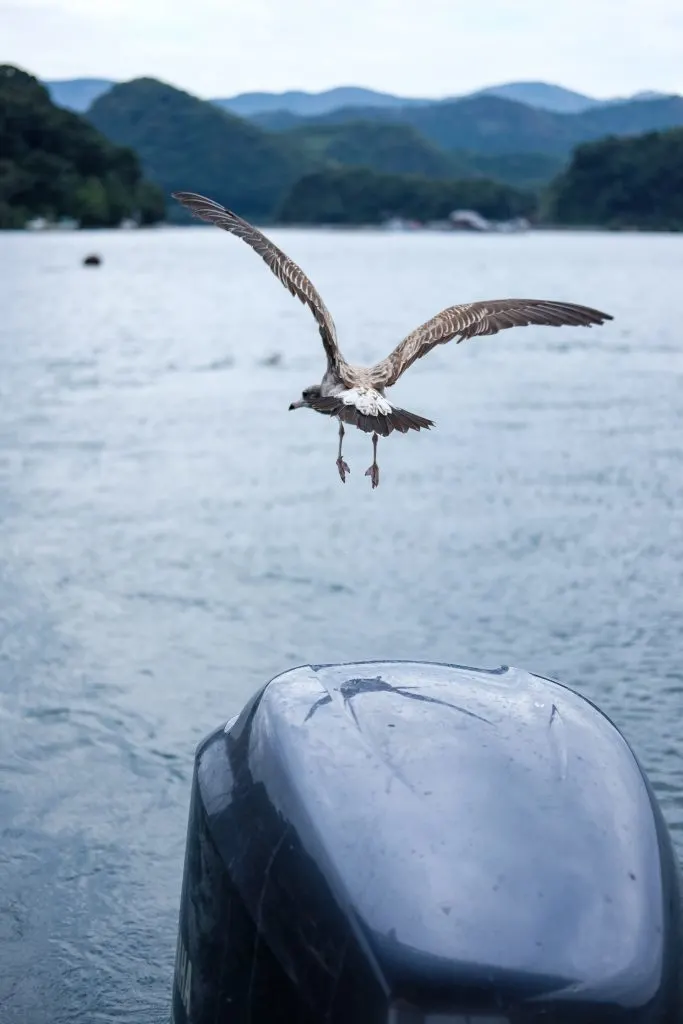 Where is Ine, Kyoto?
Ine is located 130km north of Kyoto, and is considered to be one of the major heritage areas of Japan. You can find shrines and burial mounds nearby indicating the long history of the area.
The rugged green mountains are a refreshing contrast to the tidy snake of hills you see on the way down from Tokyo, and the sea air is a wonderful change from the city.
It's possible to travel here from Kyoto. It takes two and a half hours to travel by train (or bus) from Kyoto Station to Amanohashidate Station, then an hour by bus (56) to Ine.
If you're traveling around Japan, don't forget your JR Pass. Trains are expensive!
In Ine, all buses first make a stop at the cruise ship pier (伊根湾めぐり・日出, Inewan Meguri Hide) before serving the Ine bus stop in the town centre.
I would recommend basing yourself in Amanohasidate, since there's so much to do in the area (more on that soon) and then you're in a perfect position to get to and from Ine easily.
I've added a tourist transport map at the bottom which should help you out.
Read More: See More of this Wonderful Part of Kyoto in our Hidden Secrets Post
Tour the Funayas on a sightseeing boat:
One of the highlights of my trip to Ine was taking the boat around the Funayas, the unique Ine houses that have existed since the 1700s.
Most of the houses are wooden two floor buildings, each with a garage to hold their boat. The main houses are often mountain side and the upper floor next to the water are usually reserved for guests or younger members of the family.
Our tour on the water was with the 'Kameshimamru Sightseeing Boat' and cost 1000 for a half- hour tour boat ride where you feed the seagulls (a truly impressive experience, which brought back too many memories of having my food stolen on the beach at home) and also includes an inside tour of one of the Funaya houses.
The views were incredible; the combination of the sea air, the mountains, the unique houses, and the hordes of gulls made you appreciate the simpler things in life. I really wasn't particularly keen to return to Tokyo at that moment.
Address: Kameshima Maru Ine boat cruise and Ine town tour, Kameshima 822, Ine-cho, Yosa-gun, Kyoto, 〒626-0424 京都府与謝郡伊根町字亀島822番地
You can contact the tourism board for help booking: Official Ine Tourism English Site
Our local guide took us around the village, shared the history of the area, and even showed us how they fish.
Luckily, you don't need to reserve in advance for this experience, just turn up and go. But, I would recommend giving one of the numbers below a call.
Kameshimamaru: 090-8579-1002 | The Ine Tourist Association can help you with most things you need. (0772-32-0277).
Top Tip: You can also find bicycles to rent and tour the area.
Where to Stay and Eat in Ine
There are a number of wonderful restaurants in the area and each one offers fresh fish dishes, unlike anything I've ever tasted.
Funaya Shokudo
We tried one of their set meals which included sashimi, fresh mackerel, rice, okra, and your own personal candle-lit form of shabu-shabu. The interior was relaxed and had a beautiful view of the bay so I'd highly recommend it. There are lots of options on the menu and the coffee is excellent.
Address: Funaya Shokudo, Hirata 491 (2nd floor), Ine-cho, Yosa-gun, Kyoto
京都府与謝郡伊根町平田491 2F
Website: http://www.ine-kankou.jp/taste/funayashokudo/
Restaurant Map: https://goo.gl/maps/FNzXKCJKJNQ2
Top Tip: You can find other Ine eateries here.
Stay in a Funaya:
You can actually stay in one of the local houses. There's nothing quite like opening up your curtains to the incredible view of the sea. If it's something you're interested in, then it's best to contact the tourism board and they can arrange it for you.
Otherwise, if you're planning on staying in nearby Amonhasidate then here are my picks of where to stay in Kyoto:
Taikyourou : Close to the beach with on-site hot springs. You're also five minutes' walk from the Amonhasidate Land Bridge – meaning you're in a great location to explore Amonhashidate after Ine. It's also a 5-minute walk from the train station.
Maruyasu : A similar location, just 1-minute from the train station. The offer bike rentals, a small spa and a great breakfast.
Shorenkan Yoshinoya : The ryokan allowed us some much needed time in the onsen after all of our travels. The indoor and outdoor onsen in this ryokan are stunning. The nearest station is Amino Station (Kyoto Tango Railway). You're also provided with yukata to wear for your stay which is perfect for taking pictures.
Recommended Souvenirs from Ine
Sake from Mukai Shuzo: worth a visit if just to see the beautiful building. They're open every day and have been open since 1754, The brewery is currently headed by a female master brewer.
Their signature drink (and my favourite from the ones I tried – yes there are free tastings!) was the 'Ine Mankai'. It's created from an ancient variety of rice, with a natural red colour and fruit flavour. It'll be very hard not to take some home with you. You can also buy vinegar and a number of other food products.
Address: Mukai Shuzo Sake Brewery, Hirata 67, Ine-cho, Yosa-gun, Kyoto, 〒626-0423 京都府与謝郡伊根町平田67 http://kuramoto-mukai.jp/
Another place to find souvenirs is Funayano Sato Ine, a lovely shop run by a local fishery company. They create their own fishing nets, and handmade products.
I hope you enjoy your trip to Ine! If you have any questions then just leave them in the comments.
Here's a transport map to help you out
Read More: 24- Hours in Higashiyama, Kyoto – Geisha, Culture and More