In the event of unfortunate and unpredictable tropical weather, here are some amazing things to do in Okinawa, Japan regardless of the state of the weather.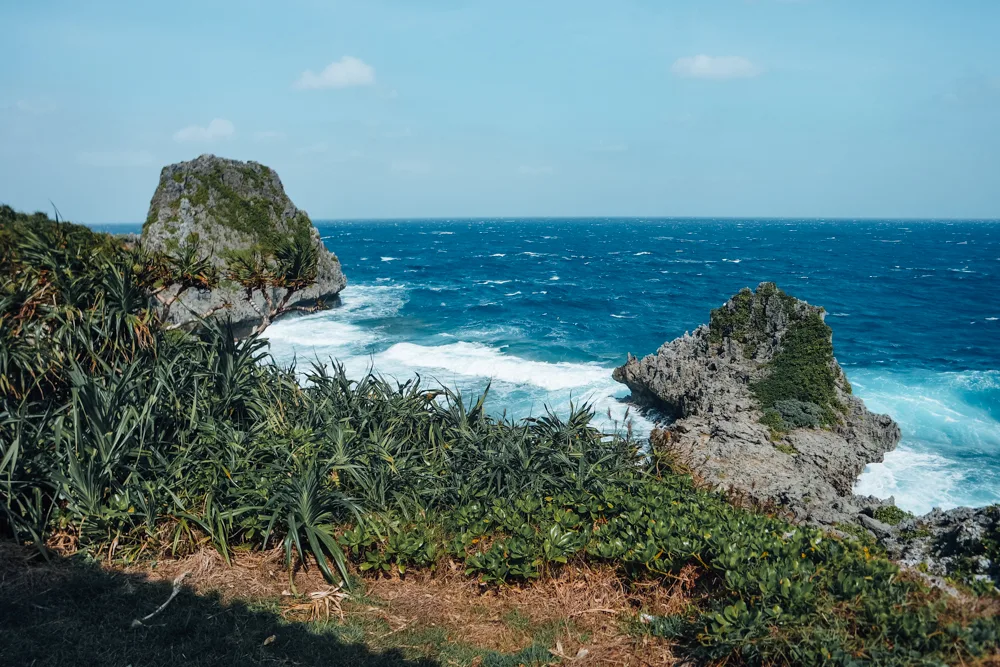 Sooner or later, it will rain on your trip to Okinawa. The reason why it often rains on weekends in urban areas is due to the build-up of pollution in the air over the week.
In the case of tropical islands like Okinawa, they naturally experience more storms and typhoons. The trick is to be prepared for everything and roll with the weather punches, instead of sulking gloomier than the sky above you.
I was once a sulker, too. With limited time and resources, even one day of bad weather feels like a ruined vacation.
Having only three days, flying down to Okinawa, renting a car, and bringing my best swimsuit, I woke up to an incoming typhoon. I came down to the hotel lobby in a frenzy and had the staff at the hotel where I was staying try to console me.
5 Things to Do in Okinawa in Typhoon Season
Between their great suggestions (because they see this happen very often), and my own carpe diem attitude, I managed to have a great time despite the typhoon winds trying to knock me down.
So, if you're reading this on a rainy morning in Okinawa, here's what you can and should do.
1) Upgrade Your Hotel
The more exciting the place I travel to, the less I care about my accommodation. But bad weather has taught me that I should care.
If you're stuck inside, especially in the worst-case scenario when you cannot go out at all, you need a home base that has you covered. Good Okinawa hotels know that firsthand typhoons are not rare, so many will help you out.
In the ANSA Okinawa Resort, where I stayed recently, they even have board games you can borrow for those raging storm days. A better Okinawa hotel means there is a restaurant and a cafe on the premises, so you're not stuck in your room.
You can take care of your souvenir shopping on a rainy day in hotels with shops. And best of all, if they have hot spring facilities, you still get to have a soak without going to the beach.
Simply having a nicer room goes a long way — staying in will still feel like a vacation rather than detention. Views of dramatic clouds are better than no views at all.
If you are on a tighter budget, you can start with simpler accommodation, and then pay for an upgrade or even switch hotels if the weather sours.
2) Okinawa Onsen Visit
If your accommodation doesn't come with its own onsen, you can always find the nearest Okinawa onsen and, knowing Japan, it won't be too far away. Both natural hot springs and super sento spas are built with relaxation in mind.
Weather is not a nuisance in an onsen; it's an added feature. For instance, people time their onsen visits in the north so they can soak in the outdoor rotenburo as it softly snows on their head. It takes only a serious natural disaster for the hot springs to close their outdoor baths.
If you're in Okinawa's capital, going to Ryukyu Onsen on Senagajima guarantees a view of the turquoise bay and a number of planes passing above. This is one of the best things to do in Okinawa, rain or shine.
Open to non-staying guests, no reservations needed, and affordable, this spa is a great last-minute idea. Senagajima is a tiny island speck connected by a bridge to Naha city, and is close to Naha Airport.
As beautiful as Okinawa is, it was still surprising to see such clean water even in the most urban area. Weather permitting, you can spend a whole day here, as the little island's Senagajima terrace is a collection of cafes and restaurants with sunset ocean views.
3) Go on a Scenic Drive
Everyone in Japan (and their uncle) has advised me to rent a car in Okinawa, and I resisted the idea at first. Renting a car in Okinawa is, after all, one of the key things to do in Okinawa.
However, apart from simply hating driving, both renting and thinking of parking all the time seemed like a hassle.
However, more demand means more supply, so renting a car and driving on Okinawa has been made as convenient as possible. Best of all, having a car was the only way to have an outing on an incoming typhoon day.
On cold and windy days, you can drive around the islands to several viewing spots, braving the wind and being rewarded with dramatic foamy waves.
I call it cape-hopping, and bad weather will surely force you to quickly go in and out of the car, and you'll end up visiting more scenic locations.
You shouldn't completely give up on going to the beach either. Diving or swimming might not be allowed, but just looking at the ocean is still OK on most gloomy days. Sometimes, it's exactly the quiet meditation you need.
Simply driving along the coast is an activity in itself, and one of the most magical, yet simple, things to do in Okinawa.
If you're on the main island in Okinawa, you can also drive to several small islands connected to the mainland by bridges. Don't forget to play your favourite tropical paradise songs!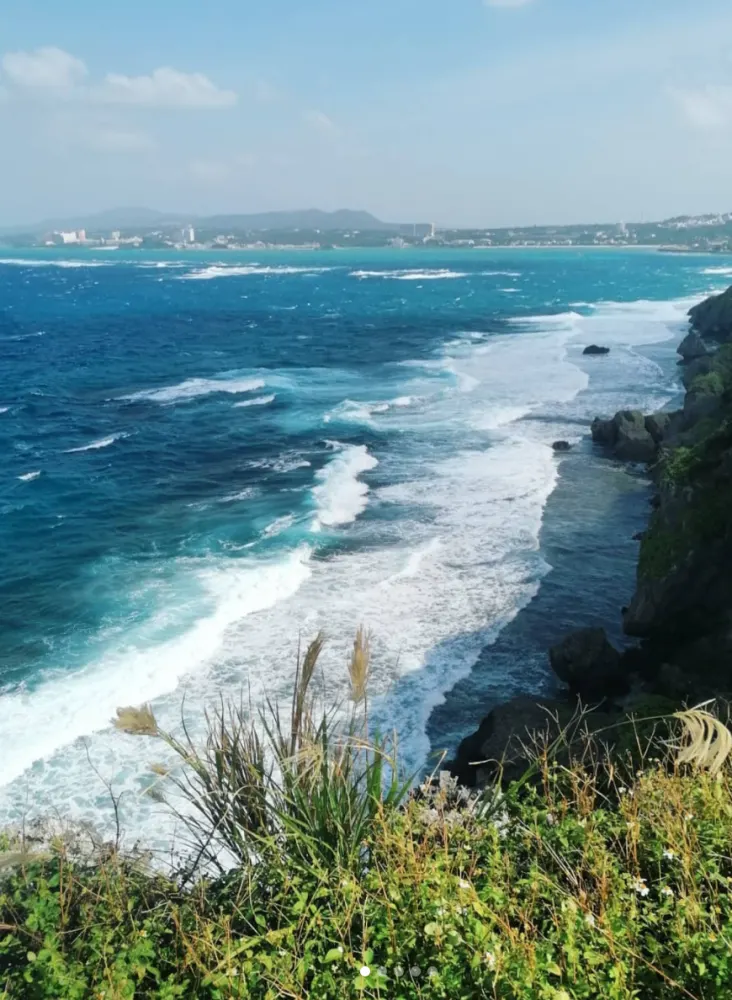 4) Go to the Churaumi Aquarium
Japan's biggest aquarium should be on your bucket list anyway, rain or shine — it is one of the very best things to do in Okinawa — but instead of spending a sunny day indoors, you can go on a rainy one. And you can spend the whole day there, from starfish to dolphins, there is a lot to see.
The massive Deep Sea tank alone is hypnotizing with the whale sharks and giant manta rays circling around you as you drink your coffee. If there is a line for the cafe, go stand in it. It's worth it.
Churaumi Aquarium also has a great restaurant with a sea view on the 4th floor, and several outdoor cafes just outside the aquarium in the Ocean Expo Park area. You can pop in and out, just showing keep your ticket.
While you're in the area, you can also go to the Tropical Dream Centre, right next to Churaumi Aquarium, and its thousands of tropical and subtropical flowers in the greenhouses. Show your ticket stub from Okinawa Churaumi Aquarium and get a 50 percent discount on entry.
5) Go to Okinawa World & Visit the Gyokusendo Caves
Okinawa World is something between a traditional village and a theme park, bringing Okinawan nature and culture in one neat package. Okinawa prefecture has deemed it a museum facility, and Japan has it registered in its list of tangible cultural properties.
A walk through the open-air village replicas and the tropical fruit garden might not be that pleasant on a rainy day, but the Gyokusendo caves are shielded from the elements. They also happen to be the most impressive sight in the whole Okinawa World.
This limestone cave complex grown on a coral reef is the largest in Japan, with a length of 5.000 meters and more than a million stalactites that keep growing.
Currently, 890 meters are open to the public, while the rest is accessed by researchers. You can actually 'walk' through the caves on Google Maps.
Other indoor activities include the sake brewery (where you can observe the process behind glass), a souvenir shopping area, and a spacious all you can eat restaurant that serves Okinawan and Japanese cuisine.
While by no means an exhaustive list, I hope these things to do in Okinawa have given you more options for a less than perfect day than sulking, going to a random cafe, or finding a museum.
By now you've probably perked up a bit and realised that you can make the most of any day when travelling in Japan.