Visiting Cambodia, like many Southeast Asian countries involves storytelling traditions dating back centuries. However, much of it was rarely written down, passed instead through oral tradition.
Most of the literary works written down in Khmer were owned and controlled by the Royal families, or the Buddhist monks.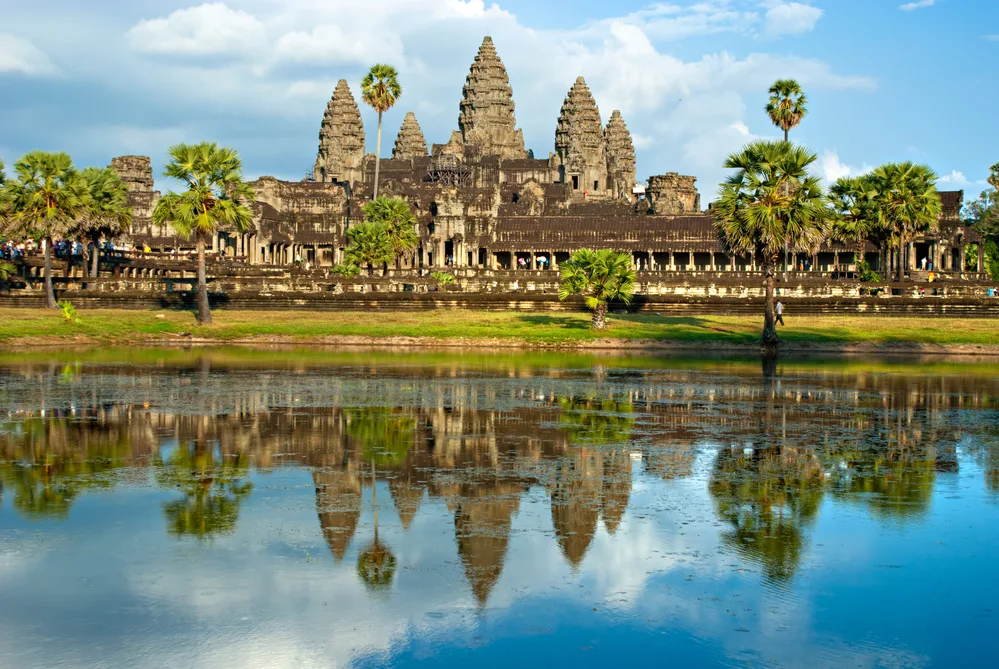 Despite these long literary traditions, the Khmer literature available in English is almost exclusively about the Khmer Rouge.
For those unaware, the Khmer Rouge was the name given to the Communist Party of Kampuchea (CPK).
Although the name originated in the 1950s as a general term for the Cambodia left, it was popularised in 1975 by the genocidal Pol Pot regime.
Pol Pot was a cruel and vile dictator who ruled Cambodia between 1975 to 1979. He and the Khmer Rouge party are responsible for upwards of 1 million deaths (the exact number is unknown).
Millions of Cambodians were rounded up, imprisoned and tortured. Many were brought to the "killing fields," a phrase coined by Cambodian journalist Dith Pran for the 20,00 sites across Cambodia where people were executed.
Pol Pot initially targeted members of the royal family, those in government positions and anyone well educated, including French speakers (although he and many of his high ranking officials spoke French). However, these were not the only people killed during his reign of terror.

When I moved to Cambodia in 2015, I sought to read as many books as possible on the country, and am always on the lookout for more.
Essential Books to Read Before Visiting Cambodia
There are many excellent books about the Khmer Rouge atrocities (some of which are listed below), and I could easily just write a list about the best books on the subject.
Instead, I have included books about a range of topics to give a better overall picture of Cambodia. But I won't lie, the Khmer Rouge's legacy is hard to avoid.
The most famous memoir of the Khmer Rouge genocide is First They Killed My Father by Loung Ung, and it's a fine book, but I want to highlight another fantastic account of a childhood lost and family destroyed by the Khmer Rouge.
Him's writing is poetic and raw. Amidst the horror and tragedy, she also shares stories of Khmer Rouge members who show her moments of kindness.
I personally prefer Him's book to Loung's, but they are both worth reading.
If you are also interested in reading a fictional account about a young girl growing up under the Khmer Rouge, I highly recommend In the Shadow of the Banyan by Vaddey Ratner, which is potentially my favourite of the three
Read More: Books to Read Before Travelling Southeast Asia
Haing Ngor became famous for his portrayal as Dith Pran in the 1984 film The Killing Fields.It is partially because of the incredible support he received for his role that he was encouraged to write his own story down.
In Survival in the Killing Fields Haing, who was a doctor, paints a terrifying picture of life under the Khmer Rouge for someone with education.
Haing is unflinchingly honest, even when it is incredibly painful. In one of the book's most heartbreaking scenes, he recounts his internal struggle as he is forced to watch his wife bleed out during childbirth in a crowded room.
As a doctor — a gynaecologist and obstetrician, no less — Haing knew exactly how to save her and the baby, but also knew doing so would result in all three of them being murdered.
In 1999, Kang Kek Iew (or Comrade Duch) was apprehended for his role in the Khmer Rouge. He was the head of the S-21 Tuol Sleng prison, notorious for its horrific torture.
Of the nearly 20,000 people interred within, there are only twelve known survivors (seven adults and five children).
Duch was convicted for crimes against humanity in 2010 after several years of trial. For many years he was the only member of the Khmer Rouge to be tried – let alone convicted. He is also the only one to ever apologise for what he did.

Nic Dunlop was haunted by a photo he saw of Duch and needed to know why. The Lost Executioner attempts to answer that question by not only delving into Duch's past and examining his motivations, but questioning why and how the world could turn a blind eye.

Following the fall of Pol Pot and the Khmer Rouge, almost no members of the party were apprehended or tried, despite pressure from many Cambodians and human rights groups.
There are many reasons for this, including rampant corruption at state level and the fact that many still in power have ties to the former Khmer Rouge party.
Although there have been a handful of convictions, including the two remaining living senior officials in 2018, the tribunals have been fraught delays and interference.

This feels a bit like a cheat because it's not entirely about Cambodia. River of Time is Swain's memoir of his time as a journalist war correspondent in Indochina (especially modern day Vietnam).
However, the book does cover the rise of the Khmer Rouge and the evacuation of Phnom Penh, as Swain was there when it happened.
River of Time is an excellent book and provides insight into the escalating tensions throughout the entire region leading up to the Khmer war.
This is one of the rare instances where an outsider — due to his ability to travel more freely around the region — is able to provide a better understanding of what is happening in Cambodia and why. Jon Swain is played by Julian Sands in the film The Killing Fields.
Read More: Exploring Cambodia's History with Jon Swain's River of Time
If you prefer short stories, Holiday in Cambodia is the book for you. These stories are all intimate slices of life in Cambodia, some about foreigners, some about Cambodians. They range in time from the 1950s to the 1990s.

Don't go into this thinking that short stories will be easier to read than a book about the Khmer Rouge. For one, many of the stories confront the realities of the aftermath war. But many of these stories are also disturbing and poignant.
From the brothels of Phnom Penh and forced marriage under the Khmer Rouge to vampires, landmines and aid agencies, there's a story here for everyone.
Cambodia's most popular attraction is the ancient city of Angkor, and the giant Hindu temple of Angkor Wat its most visited site (and the largest religious site in the world).
Temple of a Thousand Faces takes us back in time to the construction of Angkor Wat, which is the backdrop to the warring Cham and Khmer nations.
Although a lot of the book is dedicated to battle (and fair warning, it can get quite bloody), there is also a great deal about the food, the clothing, the tools and other aspects of everyday ancient Khmer life. Many of these can still be seen in modern Khmer life.
It is obvious Shors loves the subject matter, and for anyone visiting Angkor Wat and looking to read more about it, this is a must.
Read More: Books to Read Before you Visit Myanmar (Burma).
Now this may seem like a weird choice for a book list about Cambodia seeing as it is an Indian classic, but hear me out.

One of the most unique cultural experiences to have in Cambodia is going to a shadow puppet show. These cool plays use flat cut-outs with intricate designs held up and moved against the light to tell a story.

Many of the stories used in shadow puppet plays come from the Cambodian version of the Ramayana, the Reamker, and they are, naturally, in Khmer, not English.
However, the Reamker is quite difficult to find, so I recommend familiarising yourself with the Ramayana instead so you can follow along while you're in Cambodia.
If you're keen to read distinctly Cambodian folklore instead, check out Cambodian Folk Stories from the Gatiloke by Kong Chhean. These stories are unlikely to pop up in a shadow play, though.