Calling it The White Book feels reductive, almost wrong on purpose. Because The White Book is less a book and more an embracing feeling of familiarity. This book is something you live and feel, and all of this is created by its use of empty space.
Han Kang has created a story unlike any I've read, but beyond being a story it is very much an exploration of the familiar things in life.
And the familiar thing that I was struck by, page after page, was snow. Han probes snow more than once in her writing, and the book is white after all, but the simplicity of this whiteness was what kept calling me back to the simple, perfect feeling of childhood in winter.
Noticeably, almost every other page in this book is left blank. And not just blank, but a stark and empty white. This empty, pure white space is something I could describe endlessly, and I cannot resist the temptation to do just that.
There are beautiful black and white photos throughout the book, taken by Han Kang, which only add to the experience as you try to grapple with the tone of each beautiful image. The White Book has real depth and I can't help but feel that every reader will have a different experience with it.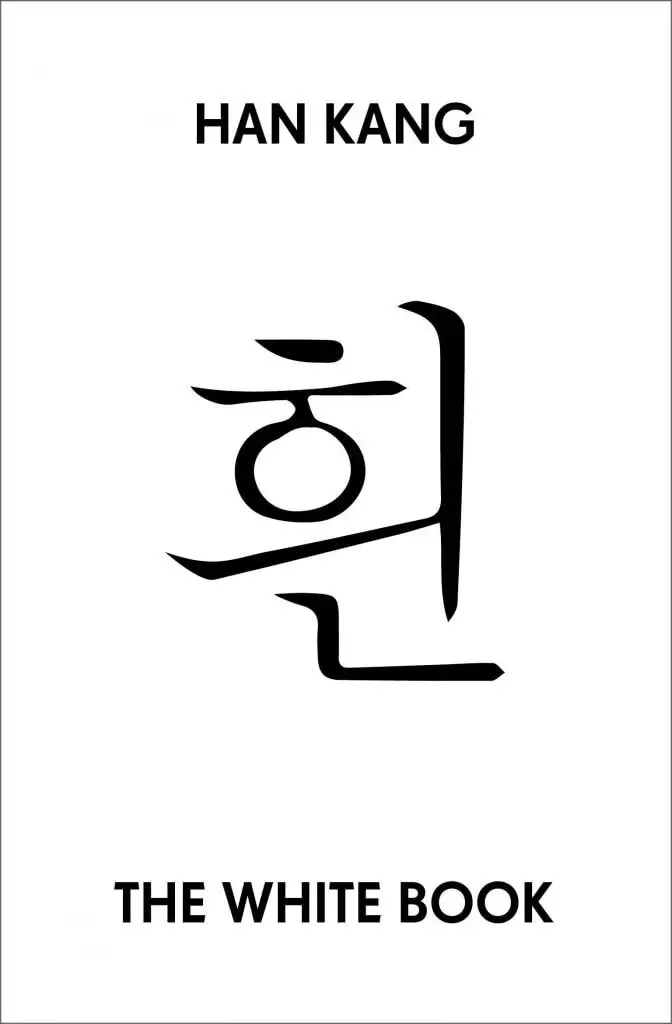 Why Read the Physical Copy?
For the full effect of this book; for it to draw you in and affect you the way it did me, you need to read the physical copy. I am typically an advocate of e-readers (being on the road a lot), but with this book the importance of having the physical thing cannot be overstated.
This thick, stark white paper, this pure empty space, takes up half of the book. And this emptiness is what takes the book beyond being a story and accesses a part of your brain that takes you to another time and place.
One gets the feeling when holding it that Han Kang and her publishers must have painstakingly hunted for the correct shade of white to use for the pages, and the right thickness and smoothness of the paper. Inasmuch as it has been written, The White Book has been carved like a sculpture, and prepared and presented like a banquet.

It Starts with a List
In her introduction, Han Kang says:
"In the spring, when I decided to write about white things, the first thing I did was make a list. Salt. Snow. Ice. Moon. Rice … Running my eyes over that list again, I wondered what meaning might lie in this task, in peering into the heart of these words."
Each tiny chapter of this story is titled with one of these white things, and the events and musings of the chapter circle its material theme. It is this, coupled with the empty space, that so draws the reader into the very feeling of whiteness. A bleak kind of melancholy peacefulness that takes hold and gently squeezes.
Who could have thought that white space, a handful of innocuous items, and some beautiful words could be quite so enveloping. Snow was what I kept returning to.
Moved as I was by her words and her story, at the back of my mind I imagined myself as a boy playing in waist-high snow. Han's words encourage this wandering. They, like snow and like the pages of her book, are sparse and elegant in their simplicity.
Her vocabulary is plain, but certainly not dull. Rather, she picks and chooses only those words that need be used. There is no wastage here. Instead, she leaves room for the whiteness. Far more like Murakami than Dickens, Han Kang is a master of simplicity. She seems to be a believer in selecting the perfect word for the perfect moment. In this way, she is more a poet than a novelist.
For proof of this, enjoy this exquisite description from the chapter titled 'Blizzard':
"This thing so cold, so hostile. This vanishing fragility, this oppressive weight of beauty."
The Power of Translation
So much credit for the beauty of this writing must also go to Deborah Smith, the masterful translator and founder of Tilted Axis Press. She has so far translated all of Han Kang's books into English. Smith proves herself as a poet as much as the author herself does, for being so careful as to ensure that no beauty is lost in translation.
While I cannot make this claim so boldly, since my own skills with Korean are minimal, the several times that Smith's translation brought me close to tears are the proof I need that she is a true, invaluable talent in the industry of literary translation.
A friend of mine was recently lucky enough to see Han Kang at a book tour in the UK, where the interviewer chosen was Max Porter, whose own books Grief is the Thing With Feathers and Lanny moved me in much the same way as The White Book has, with its own use of empty space, allowing the words to come alive on the page, and with its stripped and stark use of language and bare storytelling. I can only imagine that the discussion between these two talents must have been something rather special indeed.
But What's it About?
I'm aware that I have staved off mention of what the story in The White Book entails. This is by choice, because to say much of anything about the story would be to spoil it for the reader, and to honestly do a disservice to the writer and the book itself. Though I can say a little more than naught about it. If only a little.
Han Kang's introduction tells us that the white things came first. That whiteness itself was the most vital thing. This is as much as she knew, and from that concept grew a story.
The narrative flits between first and third person, but always centres on the same lone character: a Korean woman, spending a little time living in an unspecified central European city (though I suspected it is somewhere in Poland, and it was confirmed in an interview to be Warsaw).
It is here that our nameless narrator spends her time in introspection, though the exact subject of which I dare not say.
The story has nothing in the way of true dialogue, and its chapters are short with the time between them unclear, but what is clear is the way that the character lessens the weight she carries, eases her feelings, and helps the reader lose the tension they perhaps don't know they are holding onto as they read.
Coupled with this is the way in which the chapters gradually shorten, and as a result the white space continues to grow and spread. The feeling that the words are weight, and the white space is relief, is totally palpable. Like a fade-out at the end of an intense song, it is an absolute catharsis.
Conclusion
This story will stay with me for a long time, as much for the experience of reading it than for what is inked on its pages. Its beautiful, snowy pages. All the empty space giving it room to breathe creates the feeling of a living, aching, mending story.
The White Book is easily an experience inasmuch as it is a novel. I'd urge all Han Kang fans to read it, but also anyone looking for a very different kind of art; art which is difficult to explain and more difficult to talk about afterwards.