Kyung-sook Shin (author of Please Look After Mom) is a giant in the world of Korean literature, and rightly so. In fact, her own translator for this novel, the wonderful Anton Hur (check out our interview with him here), mentioned in an interview that her novel The Girl Who Wrote Loneliness is a 'perfect microcosm of Korean society'. This kind of praise has been showered upon our author time and again and, with The Court Dancer, this shower will soon become a storm.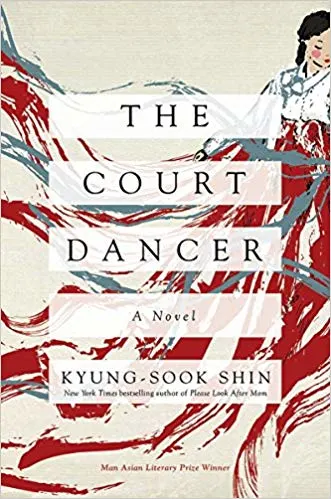 Love vs The Individual
Shin has a gift for understanding her own people, her own society, with all of its beauty and its failings – this kind of gift is something that might be considered simple for anyone who is from anywhere at all, but that is arguably very far from the truth. And, for Shin, each new novel demonstrates new strengths she had not previously revealed; new muscles she has not before flexed. This time she makes the telling of historical fiction seem as effortless as pouring crisp cold water into a glass.
"To one in love, the object of one's affections is like a bird that might fly away at any moment."
Based on a true story – set in the final years of 19th century Korea as China, Russia, and Japan are threatening the little nation trapped between them – The Court Dancer is being described as a love story first and foremost: the romantic tale of a man and a woman from two different worlds, colliding in a moment of beauty.
And, sure, that's fine, but really this is the tale of a woman born without a family, adopted into the courts of the Joseon Dynasty, romanced by a French diplomat, whisked away across the waves to foreign shores, and all the while trying to find the time to understand who she is, what she is, and what she wants out of a life that has never really been hers.
It is a tragic tale that transcends place and time to show people of all cultures that a woman's life must be fought for.
Ignoring Genre
Genres are a dangerous territory, and something of a crutch that we as an audience have come to lean on more and more in recent years. One of The Court Dancer's great strengths is not so much defying genre, but rather glibly ignoring it with a flick of its wrist.
There is an elegant confidence to Shin's ability to play with her setting, her relationships, and her politics. At times I was reminded of a well-designed fantasy novel, with its histories, its romances, its witty dialogue, and its political intrigue all dancing in graceful balance with one another.
"Anything that can be washed clean is not really dirty. Just unwashed. You mustn't think a person in rags is a dirty person. They're poor, not dirty. There's no fault in being poor."
One theme tackled hard by Shin with this novel is that of culture and its impact on us. Yi Jin is very much a product of her culture, but all the same she is betrayed by it. She is enchanted, to a point, by an exotic stranger from a culture arguably far more liberal and romantic, and so also enchanted by the culture that sent him by ship to her door. But all the while she is tethered to her home, a home country being ravaged by change and bullied by its neighbours, and a house that is not hers. This tether is of course a tangled and frayed one, but intact all the same.
A Shift in Tone
Upon arrival to Paris, the dialogue takes a huge tonal shift, with the stoic Korean cast being replaced by the pomp and grandeur of Parisian artists and literati.
But Jin's dialogue shifts too as the tether grows more and more frayed and she is overcome by both excitement and frustration; her very self is called into question and she must grow to understand her new world and her place in it, just as she had already spent her childhood doing. The ways in which Jin's heart expands and shrinks, is pushed and pulled, wears it down and may just break yours.
I have to also sing the praises of Anton Hur for his incredible translation skills. His writing has a poetic simplicity to it that perfectly translates not only the words but the tone and rhythm of the story and its dialogue magically.
Although I am unable to read the original Korean version, I can say with confidence that nothing was lost in translation. And something extra that I must praise him for is his dislike of footnotes; I could not agree more. Footnotes pull the reader out of the experience for no good reason. They are inexcusable and frustrating, an opinion that Hur himself has made clear. And here I'll highlight a beautiful moment in the book where Hur both avoids using footnotes and exposition with a deft hand:
"-I wonder if you're older than him?
-…
-Don't you want to be a nuna to him?
Little Jin narrowed her eyes at the mention of being an older sister.
-Wouldn't you like a little brother like Sobaek? Well, maybe he's your oppa instead."
This kind of translation of cultural differences allows the reader, with no effort on their part, to understand the age-related etiquette of Korean society. There is no clunk and clumsiness in this, and it makes the reading of this book an absolute pleasure.
Conclusion
Much of Shin's earlier writing, in translation, has allowed non-Koreans to experience and understand the mind and the heart of the modern Korean. Now, she has shown us the heart of pre-modern Korea with all the heart and mind she herself always lends to her writing.
If you're considering writing your own stories and becoming an author, take this writing class from author Yiyun Li and a 30-day free trial from Skillshare.
Want to read more Asian women in translation this month? Check out our favourites here.