Time to Explore Singapore
Singapore is often thought to be part of Malaysia, but it has been an independent city-state and island country for 53 years following its liberation from Britain. With four official languages – English, Malay, Tamil and Chinese – and a predominantly Islamic religion, it makes for a very unique and interesting country to visit.
The city, recently shot in to the forefront of everyone's mind due to the success of the film Crazy Rich Asians (the street food montages were enough to get people hopping on planes).
Free City Tour:
Even if you only have 24 hours in Singapore, there are plenty of things to see and do. Plus if you're really short on time and are just on a layover. Singapore offer a free tour of the city which you can take from the airport. Otherwise, public transport is affordable and easy.
Transport:
The bus stops have clear maps of where they're going (based on distance) and you just drop your coins in the box as you go in.  You can buy tickets for the subway at the machines at the station. There's a subway line and a bus service from the airport.
Singapore takes the three-pronged electrical socket (like the UK) and drive on the left.
Food:
If you're looking for somewhere cheap to eat, check out one of the many hawker centres in the city. Street food prices, excellent quality, and a great way to try all of the delicacies at the same time.  A recommended restaurant if you want to try some delicious Dim sum is Din Tai Fung.
Hotels:
Our favourite places to stay in Singapore are listed at the bottom.
Here are some of the must-dos when in Singapore.
Gardens by the Bay
Two things that come to mind when you think of Singapore are the Avatar-like trees and the Marina Bay Sands hotel (more on that below).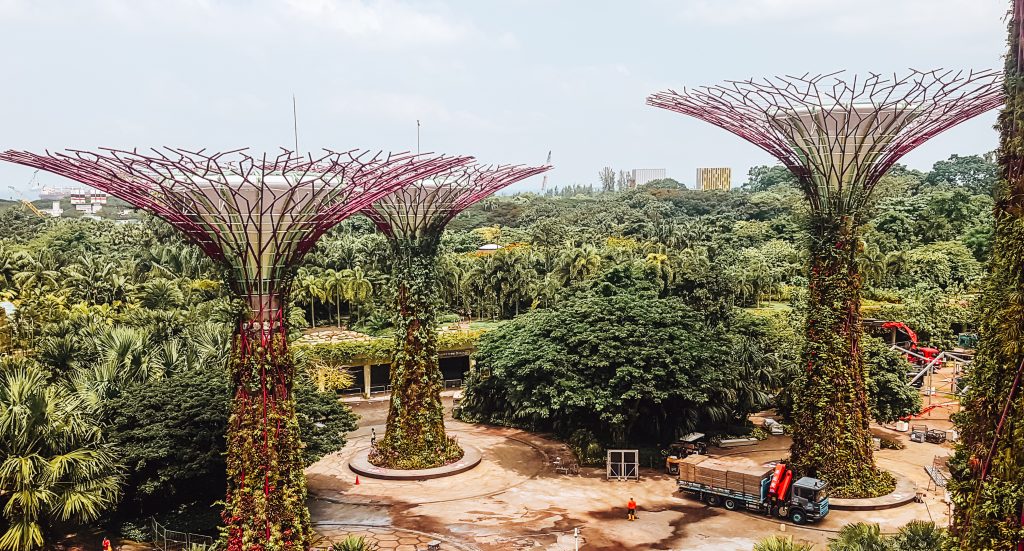 Gardens by the Bay is where you can find the beautiful gardens that Singapore is known for. Although there are many gardens in Singapore, the most well-known are the Cloud Forest Conservatory, Flower Dome Conservatory and the OCBC Skyway /Supertree Grove.They are all walking distance from each other, so it's easy to get around.
When you enter the Cloud Forest Conservatory, look up and you will see the 35-metre mountain covered in lush vegetation and the world's tallest indoor waterfall cascading down. Start your journey at the top of the waterfall. Coming down, you will see various plants, gardens, caves and the view of the waterfall.
The Flower Dome Conservatory was recorded as the world's largest glass greenhouse in 2015. The Flower Dome showcases various flora from five continents across nine different gardens. Along the way you will also see statues and other hidden surprises.
The most interesting part of the Gardens is the OCBC Skyway and Supertree Grove. The Supertree Grove, or the Avatar-trees, range between 25 and 50 metres in height. Although they are beautiful to admire during the day, I recommend seeing them at night when they light up and truly showcase their beauty. You can also wander at the base of the grove in the evening, and there are even spots to lay down and look at the stars.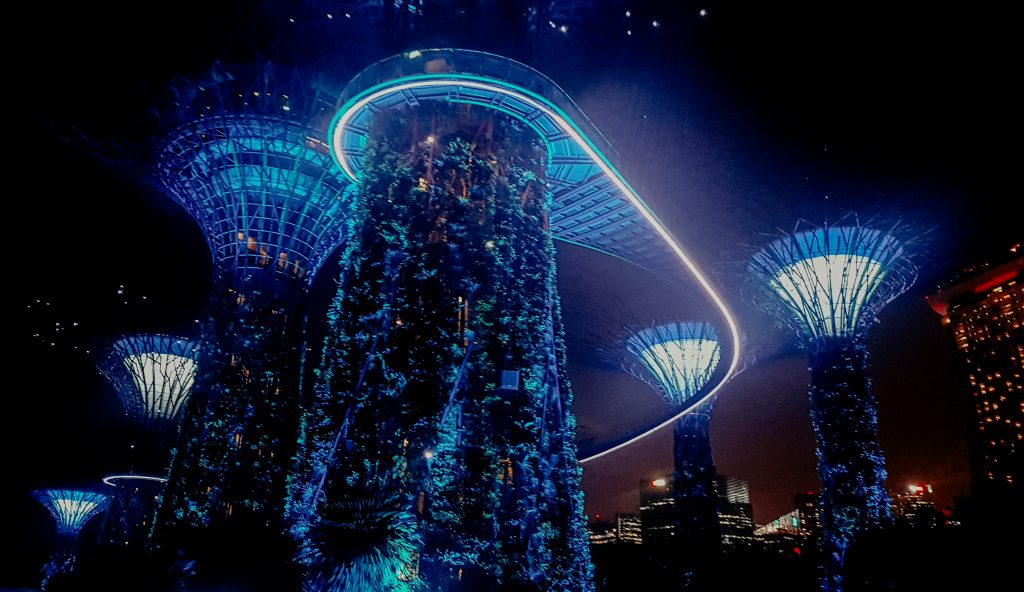 In the daytime, go to the OCBC Skyway. At a height of 22 metres, this is the best place to see the Supertrees as well as a great view of the city.
Merlion
The Merlion is a symbol of Singapore, and no trip would be complete without a visit to this unique fountain statue. Its body symbolizes Singapore's humble beginnings as a fishing village, while the lion head represents Singapore's original name, Singapura, meaning 'lion city' in Malay. Come visit this statue in Merlion Park, and get a glimpse of the downtown skyline and Marina Bay.
Marina Bay Sands
Marin Bay Sands is perhaps the most iconic building in Singapore. This luxurious hotel features everything from restaurants and nightclubs to shops and theatre shows. Even if you can't spend the night, I recommend you come here for the rooftop cocktails at night. (Click here if you are interested in staying the night.)
There are three bars which offer great views of the city. You have to buy a $20 SGD drink ticket before entering. This goes towards the cost of your drink. There are hidden service charges when paying for your cocktail, so be sure to have extra cash on hand!
Singapore Flyer
The Singapore Flyer is a Ferris Wheel located right on the bay. Standing at 165 metres, tall, this is another great place to see the city. If you want something extra, you can also get dinner and drinks as you take in the views from the top. You can also get a glimpse of Malaysia!
If you have just 24 hours in Singapore, there are plenty of things to see and do. Because these attractions are all located downtown, you can travel between them easily.
Where to Stay in Singapore
Singapore isn't known for being a cheap place to stay, but there are some reasonably priced options that don't skimp on quality. Here are our favourites.
Rucksack Inn: Based on Lavender Street, in a great central location (next to three subway lines and a small mall), this is a perfect option for budget travellers. It's nicely decorated and has a real friendly vibe.
Capsule Pod Boutique Hostel: This place is gorgeous, beautiful decor and view plus private capsules so it's perfect for people who don't like 'all in this together' vibe. It's based in Chinatown so perfect for exploring.
Porcelain Hotel: A beautiful hotel that's perfect if you're looking to splash out. It's in Chinatown, has a spa, and is close to the metro.
Heading to Malaysia? Luckily it's just a simple bus journey from one to the other. Here's our 24-hour guide to Kuala Lumpar.
Tours and Daytrips
[mks_separator style="dashed" height="2″]
Travel insurance: simple & flexible
Need travel insurance that you can buy and claim online, even after you've left home? Travel insurance from WorldNomads.com is available to people from 140 countries. It's designed for adventurous travellers with cover for overseas medical, evacuation, baggage and a range of adventure sports and activities.