Exploring the Beautiful Island
Taiwan holds a multitude of delights; whatever kind of traveller you are, be it a hiker, a foodie, or a history buff. It's here ready and waiting for you.
In the earliest planning stages of our Taiwan itinerary, there was one place that was firmly on there: Jiufen (roughly meaning 'ninth moment' and pronounced jo-fun).
The first we heard about Jiufen was a year ago when the world found out that the bathhouse in Spirited Away was inspired by the beautiful teahouse in a tiny little mountain village in Taiwan.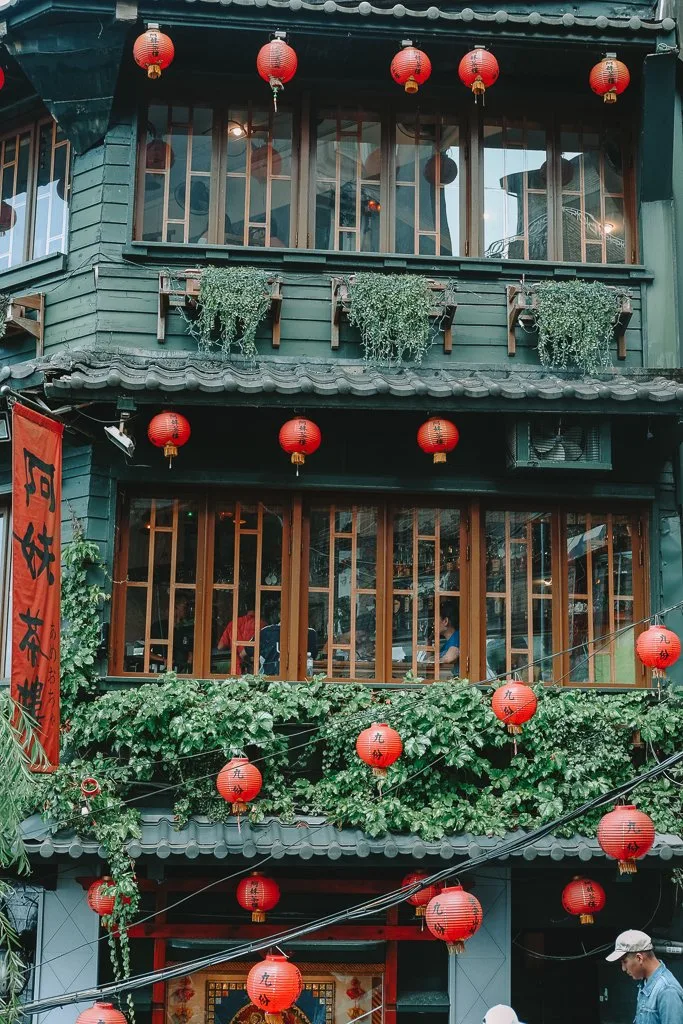 We didn't expect, when we finally had the chance to go, that not only was this teahouse very much an inspiration for Hayao Miyazaki, but that beyond the teahouse, in the surrounding areas and the market around it, the nearby mines and tunnels that we also visited reminded us of other moments in that animated film.
Equally important for travellers are the outstanding areas of Pingxi, and Jinguashi. While we generally try to make our own way to places (and you certainly can make your own way to Jiufen), to be able to see the three areas on the same day, and have ample time to explore each one, then a tour is certainly the easiest way to do it and the best we found was MyTaiwanTour.
Why MyTaiwanTour?
Again, we're not really tour people, so we automatically looked for an option with minimal people that would take you to areas that the average tourist buses wouldn't. And this is where MyTaiwanTour comes in.
Having now experienced one of their tours (Jiufen & Pingxi day tour), I wouldn't go elsewhere. We were picked up from our hotel by a fantastic and enthusiastic guide named Kelly and set out with just four other travellers. We visited the three key areas and didn't feel rushed at all.
Jinguashi
Having a guide was particularly useful for this kind of trip because she really stressed the history of these amazing places: the mining history, the Japanese occupation, and the cultural history which, until this point, we knew very little about. She also directed the driver to some secret photo spots that she herself had found whilst out on her scooter a couple of days before.
This mining area is full of abandoned buildings left over from the Japanese occupation, and is amazing for those dystopian shots. I love abandoned buildings and was itching to explore all of them. You can't (or, at least, are not supposed to) but they've got this haunted beauty that just comes out perfectly on camera.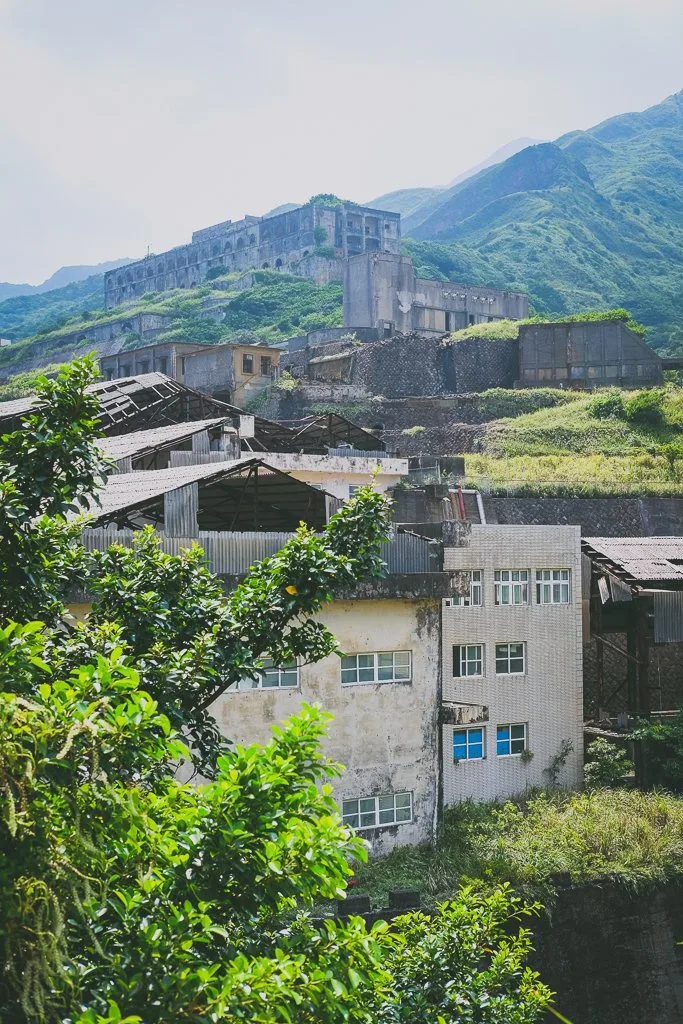 You'll also walk through a mining tunnel straight out of the opening minutes of Spirited Away, have an incredible view of the Yin-Yang Sea (a beautiful two toned ocean), and see some waterfalls.
I didn't really know what to expect here, and I was totally blown away by the landscape; in fact, in many ways it was my favourite part of the tour!
You also visit a nearby temple and learn all about Daoist religious practices. It's a peaceful haven before heading over to busy, busy Jiufen.
Jiufen (九份)
When we arrived at Jiufen we were given the option to explore alone or join Kelly for lunch at one of the best restaurants in the area. We chose to go alone and were given over two hours to explore the area, get dinner, and relax for a while. You certainly don't feel rushed around this wonderful place since it's surprisingly small.
However, it is truly gorgeous here; the winding markets, the lanterns, and the tea-houses all add to the overall effect. There's a real mix of smells and sounds, from the hustle and bustle to vendors advertising locally-sourced teas. You'll find plenty of souvenirs, and mountains of Ghibli-themed merchandise to buy. Even this No Face (Kaonashi) bubble tea!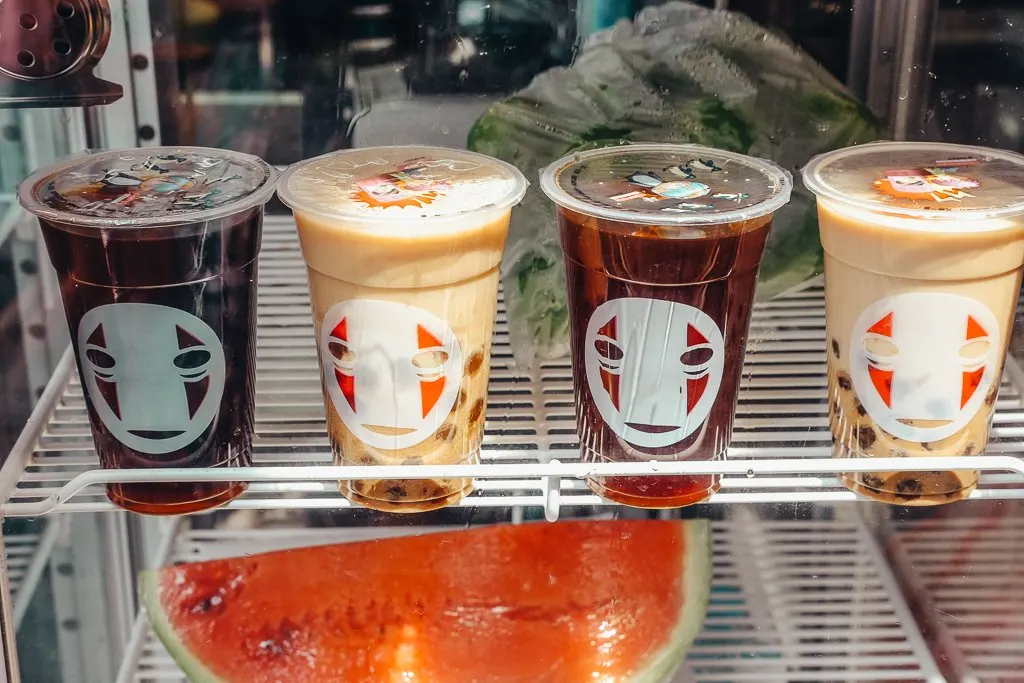 Unfortunately, Jiufen is very busy and there's no escaping that (except perhaps if you were to stay overnight; I hear the sunset is beautiful) but this is one of Taiwan's biggest tourist attractions, so we were unsurprised. Luckily there are plenty of photo spots that you can find to take beautiful pictures despite the crowds.
There's some great must-try food there, from delicious fish-balls, to wrapped up peanuts and ice-cream (you have to try this), and their famous mochi and taro ball dishes.  (IIf you're interested in Taiwanese Food, check out this article) There are also plenty of teahouses to pop in to – including, of course, the iconic Spirited Away place itself.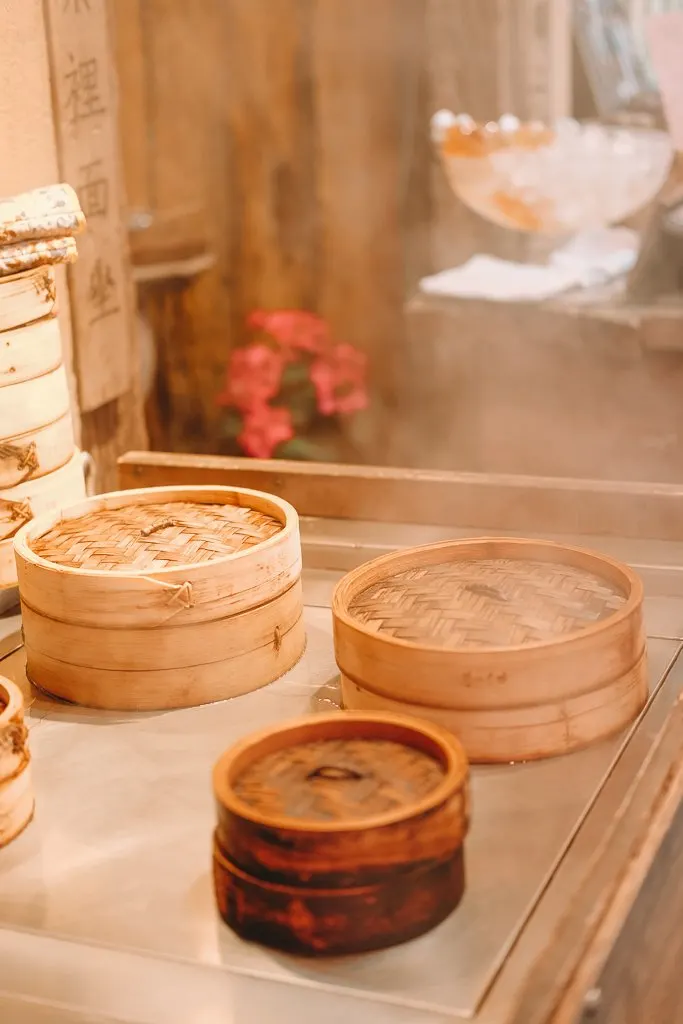 Shifen (十分) | Pingxi (
平溪區)
After our Jiufen trip we headed to Shifen in Pingxi. This area is famous for the railway line running through it – which makes for some great pictures – the sky lanterns, and the famous waterfall.
While ordinarily a visitor would just buy and decorate a ready-made lantern, MyTaiwanTour takes you to the original sky lantern shop, where you meet the family who came up with the idea to bring people to their village and boost the local tourism (it worked).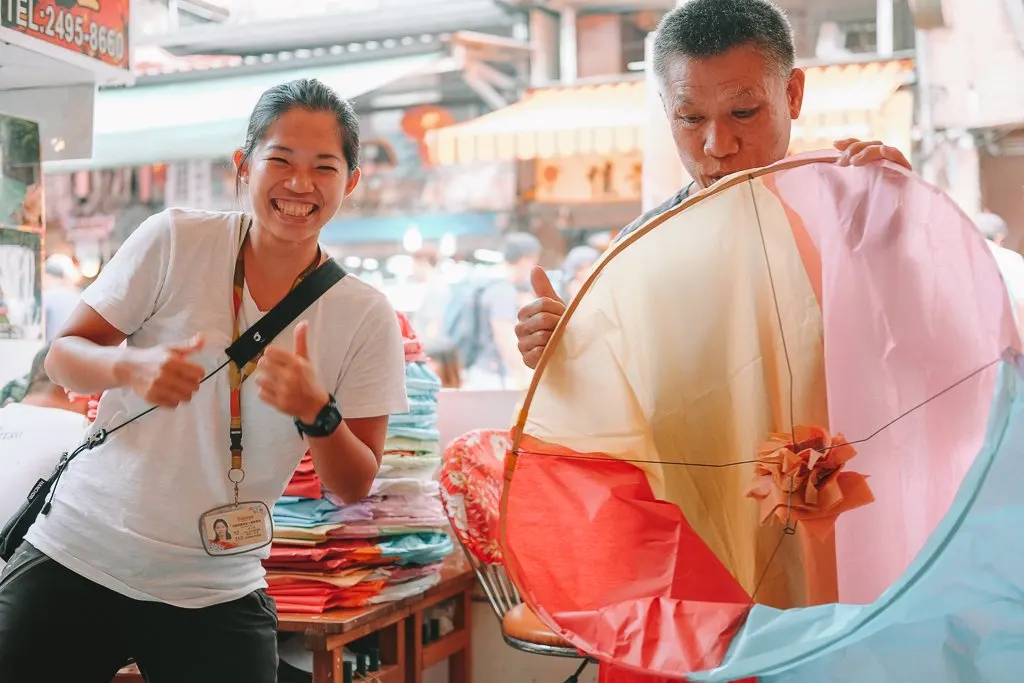 Sky Lanterns are pretty controversial now, for environmental reasons. They explained that this is the only place you can release lanterns in Taiwan and that they're designed to come down ten minutes after they fly away. The people then head out to pick up and recycle all the lanterns. Of course there are still issues with this but it's definitely one of the more ethical ways to release a lantern.
Another advantage of taking this tour is that you'll be taught how to make the lantern in a short workshop with the original shop owner (something which you have to book in advance if you want to do it).
This really adds something to the whole experience and you feel very proud of that lantern that you design yourself. You can choose to just decorate one if you don't fancy making one, but everyone watches the demonstration.
You also have plenty of time to explore the nearby cafes and shops after or simply take pictures. We took some photos and headed to a café for some bubble tea.
Conclusion
We were tired out at the end of the day but it was so worth it. It guaranteed that we had the chance to see all of these unforgettable places in one day, freeing us up to head over to Yangmingshan mountain the next day.
There's so much to do near Taipei and MyTaiwanTour is the best way to do it quickly and efficiently, and thus avoiding all of the usual issues that come saddled with many larger tours. I would definitely use them again and they have some great options for people who want to visit other areas of Taiwan with a group or want to create a private itinerary. This tour has our highest recommendation!
[mks_separator style="dashed" height="2″]
Travel insurance: simple & flexible
Need travel insurance that you can buy and claim online, even after you've left home? Travel insurance from WorldNomads.com is available to people from 140 countries. It's designed for adventurous travellers with cover for overseas medical, evacuation, baggage and a range of adventure sports and activities.
Jessica Esa
Jess is the creator and editor of Books and Bao. She's passionate about the world, it's literature, food, culture, and people. She enjoys sharing her travel tips with others and capturing those perfect moments.